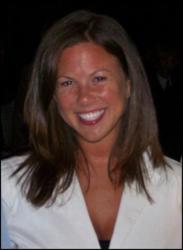 Worcester, MA (PRWEB) September 10, 2012
Lindsay Gerhardt's ability to communicate complex technical information to customers and grow the family business has earned the Executive Vice President at Barry Communications a spot on Worcester Business Journal's 2012 "40 Under 40" list. The list is published annually by the Worcester Business Journal to recognize up-and-comers in the Central Massachusetts business world.
In 2008, Lindsay joined Barry Communications, a Worcester company providing business voice and data technology and service, as Vice President for Business Development . After initial trepidation about joining a company founded and led by her father, Barry Gerhardt, Lindsay says that making the move was the best thing that she could have done. "At the time, the telecom industry was undergoing a major shift and the company had taken on new products. My challenge was to take highly technical information and present it so the layperson could make informed decisions about communication systems. I discovered I loved it!" she says.
As Executive Vice President at Barry Communications, Lindsay's primary focus is marketing and business development. She has been instrumental in bringing the Barry staff together to work as a team to grow the business. "As a young woman in a male-dominated field it is not easy to gain your colleagues respect, but Lindsay has done so," comments Andrew Mehlman, Vice President at Barry Communications.
Lindsay has been fine-tuning her leadership skills as a participant in the Women's Leadership Program for the Boston Chamber of Commerce, a year-long program that provides a select group of emerging female professionals with opportunities to enhance their leadership skills, engage in the region's business and civic communities, and develop professional networks.
About Barry Communications
Barry Communications of Worcester, MA provides voice, data and power solutions to more than 1,500 small and mid-sized businesses throughout New England. Barry Communications has more than 30 years of experience in the industry and partnering relationships with industry leaders, such as ShoreTel, Allworx, ADTRAN, Nortel/Avaya, Bandwidth.com and, most recently, Access Northeast. Visit http://www.barrycommunications.com.