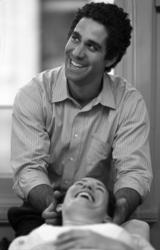 San Francisco, CA (PRWEB) September 10, 2012
ProActive Chiropractic is pleased to announce that Dr. Andrew Cohen recently obtained certification as a Certified Chiropractic Sports Practitioner (CCSP®) by the American Chiropractic Board of Sports Physicians. The certification is specific to physical fitness and the evaluation and treatment of athletic injuries and will aid Dr. Cohen in the prevention and treatment of these injuries.
CCSP® training also enables Dr. Cohen to work with Olympic athletes who are at the Olympic Training Center and to be a preferred sports chiropractor in the state. This will better enable him to care for both Olympic athletes and weekend warriors in the San Francisco Bay Area.
To receive the certification, Dr. Cohen completed 120 hours of training, followed by a comprehensive written board examination. The CCSP® accreditation exists to provide a uniform standard of education that assures teams and athletes that the doctor has met a minimum level of competency in chiropractic sports medicine. Dr. Cohen joins over 5000 others internationally who hold this designation. Dr. Cohen is also certified in Applied Kinesiology. He is the only doctor in San Francisco with both post graduate certifications.
Dr. Cohen integrates chiropractic treatments, applied kinesiology, orthotics, blood chemistry analysis, ergonomics, stress management, stretching and exercises to keep patients with back pain out of the doctor's office. He combines all of these tools into a holistic treatment plan customized to each patient's unique needs. For complete information about ProActive Chiropractic, visit their website at http://www.ProActiveSF.com. If you are interested in having your sports event covered, please contact Dr. Andrew C. Cohen at (415) 762-8141.
About the company:
The ProActive Chiropractic office practices healthcare the old fashioned way. Care is provided by doctors; not a machine, not an assistant, not a technician. Customers spend a minimum of 20 minutes of face-to-face time with Dr. Cohen at every appointment.
Satisfaction Guarantee. If you're unsure that ProActive Chiropractic's unique approach is the right avenue for you, consider their satisfaction guarantee. Their personal pledge assures that their customers are happy with their practice philosophy and approach. If customers are not completely satisfied following their first session, simply tell them at the end of the appointment and they will refund the money in full on the spot. For more information, please visit their website at http://www.ProActiveSF.com.