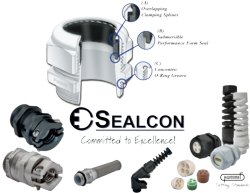 Centennial, Co (PRWEB) September 25, 2012
Sealcon LLC, a cable component distributor in Centennial, Colorado is proud to announce that we will be exhibiting in the 2012 International WorkBoat Show. The International WorkBoat Show is the largest trade-show for the commercial marine industry in North America. Catering towards businesses and individuals working on the coastal, inland and off-shore waters. The show will be held from December 5-7, 2012 at the Morial Convention Center in New Orleans, Louisiana. Booth # 3571
Sealcon LLC is located In Centennial, Colorado and was founded in 1989 in Englewood, Colorado. Our company has become a leading supplier in the industry for Liquid Tight Strain Relief Fittings, Cord Grips & Cable Glands. As the exclusive importer of Hummel AG, a leading German manufacturer of quality products in the United States & Canada, We here at Sealcon are proud to stand behind our products. Hummel AG has obtained the appropriate certifications and approvals for global distribution. This product line had been put to test and has performed in the most demanding environments.
The following patents and designs that set our Liquid Tight Strain Relief Fittings apart from the competition are:

(A) The Flexible Overlapping Clamping Splines, these splines provide concentric pressure around the entire cable. The concentric pressure prevents the form seal from being pulled out of the fitting; ensuring the proper pull-out resistance for your cable, and protecting it from damage.
(B) Our Recessed High Performance Form Seal guarantees a 150 PSIG / 10 BAR rating providing a perfect solution for high pressure wash down or submersible applications up to 300 feet. Holding one of the highest pressure ratings in the industry these parts are rated NEMA 4x & 6 (IP69K).
(C) Our Strain Relief Fittings & Cable Glands have a unique Concentric O-ring Groove providing an ideal seal in threaded and knockout applications. Our fittings have more than surpassed the above water ratings.
Not only do these fittings carry the highest pressure rating, they are also Flame Retardant (V0 / UL 94) rated and are suited to be used in public areas because they are Halogen & Phosphorus-free (non-toxic). The cable glands are made of materials that can tolerate High/Low Temperatures, are Chemical resistant & Non-Corrosive to salt water, weak acids/alkalis, alcohol, esters, ketones, ether, gasoline, mineral, animal & vegetable oil.
Our black Nylon Strain Relief Fittings are also UV and Ozone resistant because of their UL F1 (746C) rated material.
If interested, you can read our posted testimonial from one of America's leading dive light companies.
We offer Three Different Types of Tops for our Liquid Tight Strain Relief Fittings, with 6000+ different types, styles and sizes to fit your application.

The "Dome Top" is designed for stationary or fixed applications.
The "Flex Top" is designed for dynamic applications.
Lastly the "Clamp Top" is designed to give cable an additional Pull-Out Resistance in rugged locations.
Our Nylon Strain Relief Tops are designed with a safety ratchet system, which keeps the dome from coming loose under vibration. Along with superior design our product comes added with a long life expectancy. We carry a large selection of fittings accommodating cable ranges from .08" (2 mm) to 1.38" (35 mm).
.