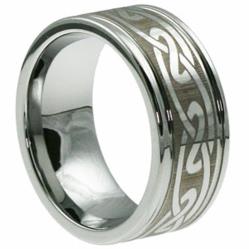 (PRWEB) September 10, 2012
http://www.forevermetals.com, a leading Tungsten ring retailer, expands on their Celtic ring collection in time for fall and winter weddings. The Celtic ring collection is a popular tungsten ring line for both men and women seeking an affordable yet unique wedding band to symbolize their love for one another. Initially the large collection featured the most standard widths for men, such as widths 7mm-10mm. Many women shopping for matching bands desired a thinner, more feminine width to wear for everyday comfort. Forever Metals took their customers' requests and created a complimenting thinner width to all of the Celtic tungsten ring styles. Both men and women will be able to shop with ease when choosing a ring they both like. Customer feedback to the new widths has proven to be great for sales.
Forever Metals is one of the few companies in the industry to manufacture such a unique Celtic ring collection in many widths. Many of the ring styles are exclusive designs, designed by the Forever Metals Engineers. Many customers have commented on the rings, complimenting the company on their ring styles being nothing like any other ring in the market.
Currently featuring a large selection of tungsten ring styles, the thinner width options are quickly being added to website throughout all the collections. For styles that do not have a thinner width option, customization will be added to the page.
There are many benefits to choosing a tungsten carbide ring for both men and women. Tungsten reaches close to a 9.0 on the Moh's hardness scale. This places the metal hardness right below a diamond. Tungsten is a virtually scratch resistant metal that with increased popularity came a large variety of style options. Tungsten carbide is the one metal that will live up the company name as a "forever" metal. The staff at Forever Metals believes that the combination of a unique, high quality ring and excellent customer service will create a positive shopping experience for all.
Forever Metals encourages shoppers to buy with confidence when choosing tungsten carbide. The metal is long lasting and comes in many different price points to accommodate almost every shopper. The large, ever growing collection of rings, will also grab virtually everyone's attention.
For more information and to view the large collection of Tungsten Rings along with the new wide width rings, please visit http://www.forevermetals.com.
About Forever Metals:
Forever Metals™ has been a leader in Tungsten Jewelry since 2005. Forever Metals is a member of the Better Business Bureau (BBB) and offers a secure shopping environment for their buyers. Forever Metals offers a Limited Lifetime Warranty with all purchases. Shop with Confidence.
Contact:
Customer Service
Forever Metals
1.800.730.8317
630.938.4703