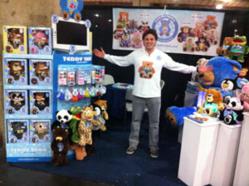 "The tank is really a combination plush toy, fish tank and nightlight all-in-one."
Miami, FL (PRWEB) September 13, 2012
In 2010, a 20-year-old college student saw a promising connection between two seemingly unrelated things. After receiving comforting teddy bears while hospitalized and later recovering at home near his soothing fish tank, he thought, why not combine the two and give life to the teddy bear and create a children's fish bowl?
This inspiring idea came to life when Spencer Grabois created the first hand made Teddy Tank. This fun and novel children's product is a fish bowl, teddy bear and nightlight all in one! The Teddy Tank is hospital safe and makes a great betta fish tank, coin bank, toy holder or as a bowl for candy.
"My idea was to make plush animals come to life by placing life inside a teddy bear. You can feed it, dress it, and talk to it," said Spencer, Teddy Tank Technology's CEO and Founder. "Teddy Tank combines imagination and creative play with a living environment. This teaches children responsibility and accountability."
Spencer's drive and creativity turned the concept into a successful company. The University of Florida pre-medical student began reading books on business, entrepreneurship and intellectual property. He researched and sourced every component needed to bring his vision to life with a first run of 500 Teddy Tanks.
Spencer then put his innovation to the test and began selling the first run of Teddy Tanks at local boutiques and his father's medical office in South Florida. The Teddy Tanks sold out, so Spencer sourced additional materials and handmade 5,000 more Teddy Tanks.
Today, the 22-year-old entrepreneur manages every aspect of the emerging Teddy Tank business, Teddy Tank Technology LLC. Spencer controls product development, merchandising and marketing. What started as a handmade home-based single product has flourished into full line with 12 animal options. Over 25,000 enhanced Teddy Tanks are assembled and stored in a South Florida warehouse creating jobs and opportunities for local residents.
Teddy Tank has grown from an innovative idea to a quality children's pet product and toy in just two years. Teddy Tank has received rave reviews and recognition from customers and industry experts across the country. Renowned veterinarian Dr. Marty Becker named Teddy Tank one of the five best product picks from the 2012 Global Pet Expo, the country's largest pet products showcase. The Teddy Tank betta fish tank is a unique and exciting children's pet toy.
"The Teddy Tank is a great way to get kids interested in pets," said Dr. Becker. "The bowl rests inside the teddy bear's belly creating a comfortable feeling of friendship. The tank is really a combination plush toy, fish tank and nightlight all-in-one. Plus the ability to feed the fish through the mouth of the stuffed animal is extra fun for kids."
Mommy bloggers are also loving Teddy Tank, Miss Jackie writes "This particular toy does so many things; it serves as a fish tank for Betta fish, a night light, a plush toy your child can dress, and a friend that will talk to your child." And Xenia Sundell says "When it comes time for your child to use their Teddy Tank, the sky is the limit and their imagination can turn this comforting pal into just about anything. Fill it with coins as a piggy bank, jewelry as a jewelry box, gumballs as a candy bowl, artificial flowers as a vase, art supplies as a craft container, small stones to house a rock collection... and, of course, fish as a unique fish tank."
Teddy Tank is fun and interactive imaginative toy that promotes learning. The Teddy Tank can keep children engaged for hours and teach a variety of lessons. From learning to care for a pet, a child discovers responsibility and accountability which will help them mature emotionally.
"When I first started I thought this would be easy," said Spencer. "My views have changed and my intuition about business has grown dramatically. A key phrase I like to stick to is 'less talking, more doing'."
Spencer is currently working with distributors and retailers nationwide, and he continues to develop the Teddy Tank brand. The product is available online at http://www.teddytank.com and select retailers in the U.S.A. and overseas.