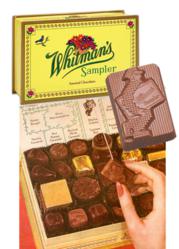 Kansas City, Missouri (PRWEB) September 07, 2012
America's most famous box of chocolates, the Whitman's Sampler®, celebrates its first 100 years in 2012. When you open a Sampler® today, not much has changed. It's still the charming, cross-stitched, yellow box with the delicious chocolate assortment and candy index telling you which piece is which – the first of its kind, now a boxed chocolate standard. But it's that piece of chocolate at the center that has many people asking, "who is that man in the middle of the box?"
At the centerpiece of every Sampler® sits the famous Messenger Boy. By 1915, just three years after its introduction, the Sampler® became the best-selling box of chocolates in the country. To solidify this achievement, the Messenger Boy was added to the box as a symbol of quality and excellence. No nuts, no chewy center, no caramel. The Messenger Boy is simply delicious solid, milk chocolate. He carries messages of thoughtfulness, delivering sweets to your sweetheart or straight to your sweet tooth. Throughout the Sampler's history, the Messenger Boy was used on drug store displays and in much of the company's advertising. To this day, since the Messenger Boy was added, the Sampler has never faltered from its #1 position. Today, a Sampler® is sold every 2.5 seconds, and over the past 100 years, more than a billion Messenger Boys have found their way into people's hearts…and mouths.
To celebrate the Sampler's 100-year milestone, Whitman's Sampler wants to party with anyone born in 1912 in their Kiss Me, I'm 100 Giveaway. Winners will receive a Kiss Me, I'm 100 hat and a JUMBO Whitman's Sampler—big enough to share with friends, but that is completely up to them! For details and more information about the Kiss Me, I'm 100 Giveaway, please visit http://www.facebook.com/WhitmansSampler.
About Whitman's Candies
Celebrating its 170th anniversary in 2012, Whitman's Candies is America's oldest continuous producer of boxed chocolates. Whitman's began in 1842 when 19-year-old Stephen F. Whitman set up a small confectionery and fruit shop on the Philadelphia waterfront. The Whitman's Sampler is among many boxed chocolate masterpieces produced by Whitman's over the years. Today, Whitman's chocolates and confections are manufactured at factories located in Abilene, Kansas, Iola, Kansas, Montrose, Colorado, and Corsicana, Texas. Whitman's. Made in America since 1842.