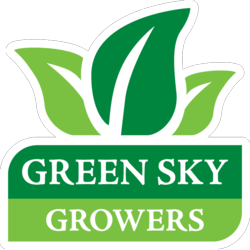 Winter Garden, FL (PRWEB) September 19, 2012
Green Sky Growers is proud to be a part of Florida's favorite and the top medium-sized farmers market in the US, as determined by a contest conducted by the American Farmland Trust. The market, which is held every Saturday from 9 am – 2 pm in historic downtown Winter Garden, hosts approximately 30 vendors each week. Located adjacent to the farmers market is Green Sky Growers. Green Sky Growers is a state-of-the-art rooftop aquaponic and hydroponic farming facility that sits atop the Garden Building and is easily seen from the market. Green Sky Growers cultivates high-quality, pesticide-free produce, which is sold to local restaurants and directly to consumers at the Winter Garden Farmers Market. Green Sky Growers is also used as a research and development facility where new growing technologies are created, tested and perfected.
Green Sky Growers would like to congratulate everyone involved in the Winter Garden Farmers Market and they look forward to its future growth.
ABOUT GREEN SKY GROWERS
Green Sky Growers, an innovator in urban hydroponic and aquaponic cultivation, operates a state-of-the-art rooftop facility in Winter Garden, FL. By combining cutting-edge technology with conventional and innovative growing techniques, Green Sky Growers practices and promotes the method of sustainable agriculture. Owned and operated by Aquatic Eco-Systems, a company with 30+ years of industry experience, Green Sky Growers is a one-stop solution for new design ideas, existing garden troubleshooting, education and installation assistance. Green Sky Growers caters to commercial growers, homeowners looking for ways to efficiently grow plants and/or fish in their own back yard as well as those looking to tackle the emerging demand for urban gardening. For more information, visit GreenSkyGrowers.com or call 407-472-0521.
PR Contact: Mitch Manning – 407-886-3939
###