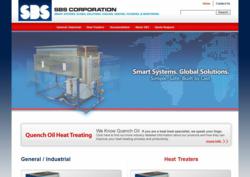 Auborn Hills, MI (PRWEB) September 08, 2012
SBS Corporation, an international leader in process control solutions based out of Auburn Hills, Mich., has a new website that showcases their product portfolio through a clean design that offers easy navigation and concise content.
The new user friendly website has been created to provide smooth surfing through use of dropdown menus that are located at the top of the page. The color scheme chosen makes reading easy on the eyes and the content is straight to the point, making comprehension simple.
SBS Corporation can be found at 2700 Auburn Ct. in Auburn Hills, Mich. This company provides cooling, heating, filtering and monitoring solutions to the global market. Some of their products include Quench Air, an air-cooled heat exchanger used for cooling oil and fluid, Sludgebuster, a filtration system used for the removal of large volume solids and Aqua-Sense, which is a moisture monitoring system used to detect water contamination.
Through designing thousands of these systems, SBS Corporation has gained valuable information about mechanical design. Also, in addition to the company's strong knowledge of these devices, they offer support before and after a sale has been made. Personnel able to assist with possible issues can be reached 24 hours a day, seven days a week and instruction manuals are always available online. This combination of quality products and readily available support are two parts of how SBS Corporation helps clients achieve efficient process control.
The design for SBS Corporation's new website comes from Market Pipeline. Based out of Portage, Mich., Market Pipeline specializes in web development and design, web marketing and search engine optimization. The company's experienced team of programmers, graphic designers and copywriters are what make this well-oiled system operate. For more information about the company, visit their website: http://www.marketpipeline.com/