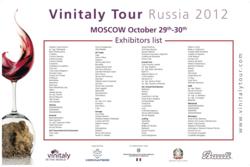 The 9th Edition of Vinitaly Tour Russia will feature more than 1500 different Italian wines.
Moscow, Russia (PRWEB) September 07, 2012
This years' Vinitaly Tour Russia on October 29th-30th in Ritz-Carlton Moscow is for the first time joining the international Wine Week "In Vino Veritas" to showcase the largest number of Italian wineries to be ever present at any Vinitaly Tour in Russia.
The two day Vinitaly Tour event will feature more than 1500 different Italian wines represented by the major Russian wine importers and also directly by the Italian Wine producers, an International Forum about the legislative challenges for alcohol promotion in Russia, the Vinitaly Wine Affair consumer event, expert roundtable discussions, Master Wine Classes and Interactive Wine Tasting sessions with Ipad's for the attendees. The introduction of Vinitaly Interactive and Ipad's for the duration of the tasting will enable attendees to easily record their tasting preferences in an intuitive way. At the end of the event, participants will find their personalised tasting book in their email inbox, making it easy to recall and learn about the Italian wines that were tasted.
Apart from the fine Italian wines, professionals will discuss the hot topic of the upcoming ban of alcohol advertising in Russia, affecting all areas of the media, promotion and events, taking effect January 1st, 2013. The International Forum on 29th October will adress this major development in "The Rules of the Games Change: Alcohol Advertisment in Russia (Changes, Challenges, Implications)" bringing together leading figures of trade, commerce, media and the anti-monopoly service.
According to General Coordinator of Vinitaly Tour, Stevie Kim, the 9th Edition of the Russian event joins the International Wine Week "In Vino Veritas" (Oct. 22nd–Nov. 1s) continues the tradition to showcase fine Italian wines to the Russian wine professionals by offering an attractive program: "The main motivation is our role as the true ambassador of Italian Wines in the world, in fact, our promotional arm is officially called "Vinitaly in the World". Wine consumption and more importantly, the Wine appreciation hence Wine culture in Russia is still very small and by joining with the other "ambassadors" of the wine worlds, we can exponentially augment the wine culture and education here in Russia."
About Veronafiere
Veronafiere is the leading organizer of trade shows in Italy including Vinitaly, the largest wine event in the world. In 2012, over 4200 exhibitors showcased their wines to 140,000+ visitors (35% from outside of Italy representing over 120 countries). Veronafiere created the Vinitaly World Tour http://www.vinitalytour.com in 1998 to develop an international platform for the promotion of companies in the Italian wine and food sectors. The latest development saw Vinitaly aiming at increasing Italian wine sales in China as it reinforced its partnership with the Hong Kong Trade Development Council (HKTDC), which organizes Asia's leading wine fair Hong Kong International Wine & Spirits Fair.