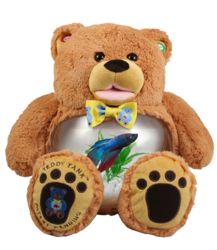 The Tank is really a combination plush toy, fish tank and nightlight all-in-one.
Miami, Florida (PRWEB) September 18, 2012
Every child needs a nightlight for security, a teddy bear for comfort, and a pet for companionship. Now you can fulfill all three needs with Teddy Tank.
Teddy Tank introduces a one-of-a-kind children's pet product that fosters childhood imagination. The Teddy Tank provides children with a teddy bear, a nightlight, and a fish bowl in one fun creation.
The Teddy Tank is now available online and at select retailers throughout the U.S.A. The Teddy Tank has received rave customer reviews and industry awards. On Good Morning America, renowned veterinarian Dr. Marty Becker named Teddy Tank one of the five best product picks from the 2012 Global Pet Expo, the country's biggest pet products showcase.
"The Teddy Tank is a great way to get kids interested in pets," said Dr. Becker. "The bowl rests inside the teddy bear's belly creating a comfortable feeling of friendship. The Tank is really a combination plush toy, fish tank and nightlight all-in-one."
All-In-One Interactive Toy/Pet Product: Teddy Tank is an interactive pet showcase that children can feed, dress, talk to, and use as a nightlight. The combination of feeding, dressing and talking brings the Teddy Tank to life in their imagination.
Children can feed their betta fish right through the mouth of the Teddy Tank. The interaction can continue though imaginative play including dressing the Teddy Tank with an assortment of Velcro bows and colored acrylic gravels. Parents can record a bedtime message that can be played with the push of a button.
Each Teddy Tank kit includes: the plush animal body, an LED nightlight with batteries, a 10-second voice recorder, 1-gallon plastic bowl, acrylic gravel, net, and a bow. There are twelve different plush animals and a variety of accessories to choose from. Children can be assured that each Teddy Tank is as unique as they can imagine.
Perfect Starter Pet for Kids:
The Teddy Tank is the perfect environment for a betta fish, offering low-maintenance and easy care betta fish tank. The plush animal skin is removable, which makes it easy to clean the 1-gallon bowl. Housing a betta fish is an exciting and interactive experience with Teddy Tank. It adds a sense of tranquility and relaxation to every child's room. Teddy Tank is a fun and interactive toy and pet product designed to engage children and promote imaginative play. Children take responsibility by caring for the pet and learn about responsibility.
More than a Fish Bowl:
Teddy Tank can do more than provide a home as a pet betta fish tank; the Teddy Tank can also hold a variety of treasures. The bowl can be used for a coin bank, as a candy bowl, or the child can store cars, building blocks or any favorite toys. The Teddy Tank is also great for packing toys for travel. This fun kids toy and pet product is a great nightlight and accent piece for a child's bedroom. For the little savers, the Pig Teddy Tank makes the perfect piggy bank. In your home or office, the Teddy Tank is a conversation starter and unique accent piece.
Teddy Tank is the all in one imaginative toy that will keep children engaged for hours!