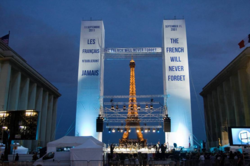 "We are humbled that our intention to pay respect to the men and women who lost their lives on that terrible day was appreciated by so many people around the globe," Patrick du Tertre and Christian Millet, co-founders of The French Will Never Forget.
Paris, France (PRWEB) September 07, 2012
As the 11th anniversary of the Sept. 11 tragedy approaches, the grassroots organization "The French Will Never Forget" (TFWNF) is assessing the impact of its multifaceted, day-long activities of one year ago, the culmination of which was a scaled reproduction of the World Trade Center towers constructed in front of the Palais de Chaillot esplanade, Place du Trocadéro in Paris. All of the events of that day were conceived to demonstrate the support and gratitude the French people feel for their longtime American allies—as, in fact, is the aim of all the activities conducted by this organization, which was created expressly to strengthen the friendship between the U.S. and France.
"Last year's commemoration was by far and from every standpoint the most complex that we have ever executed," said Paul Bensabat, co-president and co-founder, TFWNF.
"We are humbled that our intention to pay respect to the men and women who lost their lives on that terrible day was appreciated by so many people around the globe," added Patrick du Tertre and Christian Millet, co-presidents and co-founders, TFWNF.
CNN called the event the most important 9/11 commemoration in the world outside of New York, and each tower was approximately 75 feet high and created by scaffolding wrapped in white tarpaulin. The first tower listed the names of the 9/11 victims who lost their lives. The second tower showcased messages of French supporters from across the globe, which were taken in part from posts to the organization's Facebook page.
In the ceremony's opening, a group of nearly 70 teens carried out the world's largest U.S. and French flags, which measure 30' x 60'. These flags were commissioned by TFWNF in 2007, for its Omaha Beach 2,500-people human chain of U.S. appreciation; since their creation, the flags have draped the buildings of the U.S. Embassy in France every year on July 4.
This monumental 9/11-anniversary event was based on an original concept and design from well-known French architect Jean-Pierre Heim, who is also a co-president and co-founder of TFWNF. It was then coordinated and produced by Franco-American event agency Citizen Events. Now based in Miami, Florida, the agency produces corporate and public events with up to 500,000 spectators and will be producing the third edition of Arts for a Better World, the only socially responsible art fair, during Art Basel Miami Beach.
"Building two towers weighing approximately 100,000 pounds each on one of the most protected sites in Paris was a great challenge," said Heim.
"We were so honored to take part," said Rod Kukurudz, president, Citizen Events, co-founder, Arts for a Better World. "As a creative, dynamic and efficient event-production company capable of huge, one-of-a-kind projects, we were able to rise to that challenge. We are forever grateful to The French Will Never Forget for giving us the opportunity to prove ourselves with such a worthy undertaking."
The event earned immense coverage across the globe, garnering more than 231 million media impressions, with coverage in such outlets as CNN, BBC, The New York Times, USA Today, The Independent, the Daily Mail, The Washington Post, Los Angeles Times, Associated Press, Agence France-Presse, Europe 1, TF1 and France 3, among others.
It has also earned numerous awards, both for Citizen Events and for @erwwpr, the PR agency that provided its services pro bono for the project. A making-of documentary produced by Citizen Events and PZ Productions on behalf of TFWNF has won two awards: Best International Documentary at the Manhattan Film Festival and Silver winner of the Prestige Awards for Short Documentary.
Honors for @erwwpr's work include a Big Apple award for Events and Observances, Less than Seven Days; a Bronze Bulldog award for Best Use of Digital/Social in a Public Affairs/ Awareness Campaign; Gold Bulldog awards for Best Issue/Cause Advocacy Campaign and Best Campaign Under $10,000; a Silver Bulldog award for Best Special Event/Stunt; and a PR News CSR award for CSR on a Shoestring. Additionally, the campaign was short-listed for two Cannes Lions: Best Use of Live Events and/or Stunts, and Charity and Not for Profit.
"We were so impressed by the passion and vision of TFWNF's leaders, which was evident in the scope of this event," said Marian Salzman, CEO, @erwwpr. "We believed that this was an important project, and so we were thrilled to offer our services to get the group's message of Franco-American goodwill out to the world. Telling our clients' stories to the audiences that matter to them—no matter where those audiences are—is what we do best, so this was a natural fit for us."
Since the creation of TFWNF, the organization has paid tribute to the United States in annual displays of fellowship. Its first initiative, on July 4, 2003, was a campaign to lay a red rose on each one of the 60,511 graves, spread out in 11 cemeteries, of U.S. soldiers fallen in France during the two World Wars. The organization's grandest gesture, till now, was its July 4, 2007, initiative, in which 2,500 French volunteers spelled out "France Will Never Forget" on Omaha Beach. It was a social media sensation, with a YouTube video of the crowd-sourced event going viral and eliciting tens of thousands of positive messages on the Web.
Visit thefrenchwillneverforget.com for more information. Or find us on Facebook, at "The French Will Never Forget—U.S. Page" and on Twitter at @FrenchNever4Get; the official Twitter hashtag is #TFWNF.
About Citizen Events: This event was planned, developed, coordinated and produced by Citizen Events, an event production company directed by Sandrine & Rod Kukurudz, international event producers based in Miami since 2006. In the last 26 years, Citizen Events has created and orchestrated over 2,000 major corporate, social and public events of up to half-a-million spectators, for such corporations as Xerox, Microsoft, De Beers, JP Morgan, Kraft Foods, and numerous institutions such as French Presidency, French Senate, Cities of Paris, Miami Beach, Surfside. http://www.overtureartfair.com - http://www.CitizenEvents.com