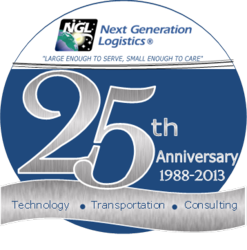 Our customers are empowered with improved visibility and reduced transportation spend through transparency... Ari Smith
Inverness, IL (PRWEB) September 10, 2012
In 1988 from his California home office, CEO Ari Smith founded NGL with the purpose of providing supply chain expertise and consulting services to the food industry. After two relocations NGL settled into their Inverness offices in 1998. Over the years, service offerings have broadened to include: Managed Freight Services in 1990, FreightMaster ® TMS in 1996, NEXTrack® Internet collaboration portal in 1999.
"I am humbled and pleased that NGL has reached this significant milestone. Our customers are empowered with improved visibility and reduced transportation spend through transparency." said Ari Smith President & CEO. "I look forward to the Next Generation of supply chain solutions our team will bring to market in the next twenty-five years."
Software enhancements and upgrades enable NGL to keep up with the rapid changes in the supply chain industry. Last year NGL BI-Tools and dynamic reporting were developed offering customers a completely new way to view and analyze data. The latest release of FreightMaster TMS®6.0 set for this October, leverages the latest in 2012 technology. Enhancements include sophisticated drag and drop features and updated optimization for improved asset utilization. Dynamics TMS® 6.0 is also set for release next month, providing seamless integration with Microsoft Dynamics™ AX ERP. The enhancements have the look touch and feel of Dynamics™ AX ERP 2012. NGL revamped their Appointment Scheduling software which fully manages inbound, outbound, transfer and customer pick up (CPU) orders.
NGL's Freight Management programs emphasize customer collaboration to provide a customized program that meets their unique needs. Focused on providing excellent customer service and supply chain consulting solutions through continuous improvement. The average customer has been with NGL for over six years, proving that NGL has never lost sight of meeting customer expectations. NGL has received many industry awards for Technology, Logistics and Sustainability. These awards are attributed to state of the art software and highly trained staff with an average tenure of nearly ten years.
"We design customized supply chain solutions for our customers, because it is important that we align with customer's tactical and strategic visions" said Christopher Cada, Director of Managed Supply Chain Services. "At NGL we build partnerships with customers."
About Next Generation Logistics, Inc.
Next Generation Logistics, Inc. is a technology based supply chain solutions provider offering: FreightMaster TMS® Software, Managed Freight Services and Supply Chain Consulting. NGL's services focus on supporting efficiency and growth for small to medium sized organizations in the Food & Beverage and Consumer Products Industries supply chain. http://www.nextgeneration.com
About Microsoft Dynamics
The worldwide leader in software, services, and solutions with a mission to help people and businesses realize their full potential. http://www.microsoft.com/dynamics