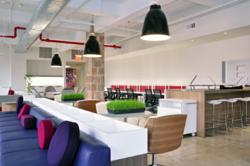 New York, NY (PRWEB) September 11, 2012
Peter Gaslow, President and CEO of Empire Office, Inc. (http://www.empireoffice.com), a leading national provider of contract furniture solutions, today announced the launch of two new showroom spaces in New York and Florida.
In January 2012, Empire Office in New York took over an additional 7,500 square feet on the 14th floor of their headquarters building. Now occupying space on both the 14th and 15th floors of 105 Madison Avenue, the total office footprint is about 21,000 square feet of newly designed working showroom space.
Set to launch this fall, the new showroom is the first of its kind among furniture dealers in the New York market. This unique space has been designed around a free-address concept where employees are given a palette of places to work instead of a dedicated workstation.
"The way people work is changing and so must we," Gaslow states. "Business leaders today are charged with responding to the evolution of technology in the workplace, the attraction and retention of future generations of leaders, optimizing productivity levels amongst employees and a pressing need to reduce their overall real estate footprint. We have found that companies can help support many of these corporate initiatives by offering a flexible, more collaborative space to their employees."
The relocated Florida showroom features 10,000 square feet of space in a convenient location just off I-95 in Hollywood. This bright and expansive working showroom, outfitted with the latest Steelcase product and technology, also features a free-address zone in addition to a number of collaboration areas. Empire Office is the exclusive Steelcase dealer in the South Florida market.
Richard Gulardo, COO, added, "The intent of our new spaces is two-fold: to inspire the design community and introduce clients to this new type of working environment. By adopting it first ourselves, we're paving the way for clients to begin to visualize how this idea can be molded successfully to work within their own companies. We are excited to be on the forefront of this major shift."
The new Florida showroom is located at 2 Oakwood Boulevard, Suite 140, Hollywood, FL 33020. Empire Office's headquarters in New York is located at 105 Madison Avenue, New York, NY 10016.
About Empire Office, Inc.
Empire Office is the largest commercial furniture dealer in the world, with over 65 years of experience and more than 260 full-time employees across the country. We are the preeminent Steelcase dealer in the United States and support a list of more than 300 manufacturers. But we're more than just a full-service office furniture dealer. We partner with business leaders, architects and designers to deliver comprehensive, creative, and cost-effective solutions to real business challenges. Our goal is to deliver the perfect office furniture experience from the initial set of drawings to the final installation and punchlist.
For more information
Richard Gulardo, COO, telephone: 212-607-5560
Email: publicrelations(at)empireoffice(dot)com or visit us online at http://www.empireoffice.com
###