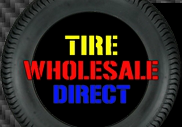 Offering low, wholesale pricing on all major brands, Tire Wholesale Direct's website provides easy to search for in-stock options, and information on specials and rebates
(PRWEB) September 07, 2012
Tire Wholesale Direct strives to be a leader in meeting online customers' tire-related needs. The company has a sleek website that allows customers to search for and compare a major selection of products from all major tire manufacturers including Michelin, Goodyear, Bridgestone, Hankook, and many others from a wide inventory.
Tire Wholesale Direct's website features easy to use search tools that allow customers to compare, research and purchase all of their tire needs from the comfort of their own home. Customers can shop by brands, browse lines, and view specific product details. An easy to reference product guide makes it simple to compare specs like speed, warranty, sizes and pricing. Searches can be viewed specifically by vehicle make, model and year, to make finding the right tire, at the best price as easy as possible. Tire Wholesale Direct provides a fast and secure checkout process combined with unbeatable shipping, direct to a customer's home, mechanic, or auto shop.
Offering low, wholesale pricing on all major brands, Tire Wholesale Direct's website provides easy to search for in-stock options, and information on specials and rebates. The website also features state of the art tools to research tires by brand or product line, easily request an online quote, and Tire101 to educate customers on proper tire care and product specs. For more information on Tire Wholesale Direct and its unbeatable deals, visit the company website at tirewholesaledirect.com.
About Tire Wholesale Direct: Tire Wholesale Direct is an online hub designed directly with the consumer in mind. Featuring easy state-of-the-art search tools, Tire Wholesale Direct offers low priced tires from all major tire manufacturers, streamlined product guides to research and compare tires, and fast and easy shipping. Buying quality tires at exceptional prices has never been easier. Shop now for the best deals!
http://tirewholesaledirect.com was built and powered by Tire Company Solutions (TCS).
Tire Company Solutions, a Microsoft Certified Partner, develops and markets both off-the-shelf and custom tire software solutions, web applications, ecommerce platforms, and support and consulting services to tire companies across the US and Canada. TCS has built a product base, which continues to prove itself as a revenue increasing, business streamlining asset to any size tire business. TCS has tools unmatched in the industry, and customization within each of its products to cater to the way tire dealers and retreaders do business. TCS's home office is located outside Nashville, TN with a second location in Salt Lake City, UT.