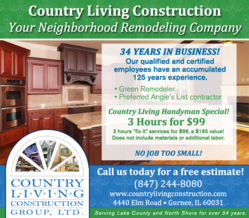 Gurnee, IL (PRWEB) September 12, 2012
John Michael Jr., owns and operates Country Living Construction. He meets with the homeowner and inspects the home and property for free. This program allows the homeowner to develop a comprehensive plan for current and future needs for the home. It also helps with financial planning and keeps the home owner ahead of any potential problems.
Country Living Construction is a full service remodeling company that is located in Gurnee, Illinois and has been serving Lake and McHenry County residents for 35 years. In lieu of their anniversary, Country Living recently hosted a free educational EXPO at the University Center in Grayslake. They provided 18 vendors with a vast knowledge of experience ready to help with any interior and exterior home concerns and questions.
Country Living is well known for the quality of work they provide but is also known as a company willing to provide community service. They have donated thousands of dollars in material to Habitat for Humanity and time and labor to Christmas in April. John has personally donated free handyman services to Lake County seniors in need and has volunteered time and labor for the American Legion (North Chicago Post #397). As a member of the Lake Forest and Lake Country Chambers of Commence he has volunteered to provide educational and informative lectures on home safety and new green products to their members.
Country Living Construction is a "Preferred Contractor" on Angie's List, is a 25 year active member of NARI (National Association of Remodeling Industry) where they received the prestigious "Remodeling Excellence Award" for John's unique energy saving envelope home and is a member of the NALA, a local business association providing support and marketing tools to keep businesses thriving.
For your remodeling needs or to inquire about their current "Handyman Special" including 3 hours for only $99.00, please call Country Living Construction today at 847-244-8080.
About Country Living Construction
Country Living is an award winning company providing quality work since 1978 throughout Lake and portions of Cook and McHenry Counties. Their expertise is in remodeling of homes, specializing in kitchen, baths and windows. Country Living consists of a team of four true professionals with a combined experience of over 134 years in the construction industry. Their employees are certified in: window and door installations, lead safe remodeling, siding, and kitchen installations and much more.
About NALA™
The NALA (National Association of Local Advertisers), a small business association, is for local business owners offering new online advertising & marketing tools, great business benefits, education and money-saving programs, as well as a charity program.
Contact: Country Living Construction
John Michael
4440 Elm Road
Gurnee, Illinois, 60031
847-244-8080
http://www.countrylivingconstruction.com
Facebook