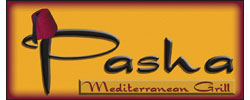 Going Green means more space, more benefits, happier customers and a great look for the new Pasha International Plaza
San Antonio, TX (PRWEB) September 10, 2012
Recently acquired by the owners of Pasha Mediterranean Grill, the shopping center at Wurzbach and Bluemel near the San Antonio Medical Center joins Pasha, Naara, Brothers Furniture, Hala Tours and Pasha's Grand Bazaar to become part of Pasha International Plaza. Along with the clean, new look come some welcome changes, including new asphalt for the busy parking lot and recycling centers to clean up the plaza and protect the environment.
The expansion of the shopping plaza took its toll on the existing waste containment areas, and the suggested recycling centers will alleviate many of the current problems for the plaza. Waste Management's Alicia Pena, responsible for implementation of the Pasha International Plaza Goes Green project for Pasha Mediterranean Grill, says each shopping center tenant will receive rolling recycling containers for their use as well as the option for convenient customer recycling centers for glass bottles, aluminum cans, paper and cardboard. There will also be two new 8 cubic yd. recycling stations for the tenants.
Since adding an authorized Ashley Furniture outlet, Brothers Furniture, to the plaza, existing tenants noticed an immediate increase in cardboard boxes overflowing from the waste containment area. Don's and Ben's Liquor, in the adjacent shopping center for several years, will be immediately affected since the containment area is just next door. The clean up is a positive change.
Growth requires keeping up with customer needs. "We've been pushing for an area recycling center since long before opening Pasha Mediterranean Grill in 2008," explained one of Pasha's owners. " I operated a business nearby for several years that produced far more paper for recycling than the small blue boxes brought to us could possibly contain. I would load up my vehicle and drive to drop everything off - paper at one location and plastics or aluminum to a center near my home. Sometimes it would all end up staying in my car when I was too busy. Now we finally have our own convenient facilities right here at Pasha International Plaza."
Ali Baba Grocery welcomes the new neighbors, new property management and new containers. As a supplier of fresh, 'halal' meats for Pasha Mediterranean Grill, Ali Baba already had an existing relationship with Pasha that only grew stronger during the remodeling provided by the new plaza owners. Across from Ali Baba, fresh pita bread is made daily in their new, larger oven area. The travel agency owners of nearby Hala Tours will now have easy access to recycling for all of their travel brochures. Naara Cafe will quickly be able to recycle tons of aluminum cans and glass bottles using the new system.
Going Green means more space, more benefits, happier customers and a great look for the new Pasha International Plaza. For Pasha Mediterranean Grill, any other alternative was unthinkable. While some myths about recycling still have people hesitating or concerned, Waste Management offers the following information:
Recycling Myth: Recycling causes more pollution than it prevents. Here is part of the National Recycling Coalition Response:

It takes 95% less energy to recycle aluminum than it does to make it from raw materials. Making recycled steel saves 60%, recycled newspaper 40%, recycled plastics 70% and recycled glass 40%.
-These savings far outweigh the energy created as byproducts of incineration and landfilling.
WM adds, " Recycling one ton of glass saves the equivalent of 9 gallons of oil. In one week, Americans throw away enough cans and bottles to circle the earth 4 times! The Statue of Liberty was restored with recycled scrap metal. Any reduction in CO2 or other harmful gases is not only a key ingredient for the fight against climate change, but a key ingredient for cleaning the air we breathe."
Recycling helps preserve the quality of our air and water. Follow Recycling Supply Company and Pasha Mediterranean Grill on Facebook for much more information. Waste Management recycles enough paper every year to save 41 million trees. Please recycle the paper this was printed on.
About the company:
In 2008, two families came together with the dream of providing a culinary experience fit for a Pasha. Comparable to knighthood, the term Pasha was bestowed upon those who earned prestigious recognition. Throughout history the Eastern Mediterranean has been famous for producing world renowned chefs and gastronomical delights. In honor of this great heritage, Pasha Mediterranean Grill strives to bring you a unique and healthy alternative that does not disappoint and the best Mediterranean restaurant. For more information, please visit their website at http://www.gopasha.com.