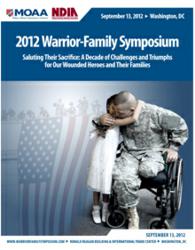 "I am honored to be a part of this year's Warrior-Family Symposium," stated Rep Jeff Miller. "These men and women deserve our very best, as do their families, who are integral to the healing process of their loved ones."
Alexandria, VA (PRWEB) September 10, 2012
The Military Officers Association of America (MOAA) and the National Defense Industrial Association (NDIA) will host the 2012 Warrior-Family Symposium (WFS) to honor wounded heroes and their families. This year's WFS event will focus on the theme "Saluting Their Sacrifice: A Decade of Challenges and Triumphs for Our Wounded Heroes and Their Families."
The Honorable Jeff Miller (R-Fla.), chair of the House Committee on Veterans Affairs, will join The Honorable Eric K. Shinseki, secretary of Veterans Affairs, and LTG Patricia D. Horoho, USA, Surgeon General and Commanding General, United States Army Medical Command as distinguished speakers at the WFS.
WHO: Military Officers Association of America (MOAA) and the National Defense Industrial Association (NDIA)
WHAT: The 2012 Warrior-Family Symposium (WFS)
WHEN: 8:30 am to 3:30 pm on Thursday, Sept. 13, at the Ronald Reagan Building and International Trade Center in Washington, D.C.
Background: MOAA and NDIA will provide a forum for expanding on the collective efforts of government and non-governmental organizations over the past decade, to improve the physical, psychological, and overall well-being of wounded warriors and their families.
This year's program features stories, told by wounded warriors and their family members and caregivers, recounting their diverse experiences, challenges, and triumphs on their road to recovery and transition. These first-hand accounts are designed to provide an overall awareness of their needs and, subsequently, lead to the further enhancement and refinement of programs and services that will benefit wounded warriors and their families. Important and relevant transition topics such as medical-disability benefits, care coordination, family-caregiver support, and employment-transition services will be discussed.
Online registration is available at http://www.moaa.org/wfs/, or call toll free 1-888-503-1193. Onsite registration will be available the day of the event.
Media Note: All media, who are interested in attending the event, please sign in at the media table outside of Atrium Ballroom next to the check in and registration table.
Questions from the audience will be welcomed. Speakers, panelists, and leaders of MOAA and NDIA, including MOAA President Vice Adm. Norbert R. Ryan Jr., USN-Ret., will be available for interviews.
For parking information, please click here.
About MOAA:
Military Officers Association of America (MOAA) is the nation's most influential association of military officers. MOAA is a nonprofit and politically nonpartisan organization with 370,000 members from every branch of service, including active duty, National Guard, Reserve, retired, former officers and their families and survivors. We are a powerful force speaking for a strong national defense and representing the interests of military officers at every stage of their lives and careers. For those who are not eligible to join MOAA, Voices for America's Troops is a nonprofit MOAA subsidiary that supports a strong national defense. To learn more, visit http://www.moaa.org.
About NDIA:
The National Defense Industrial Association (NDIA) is America's leading Defense Industry association promoting national security. NDIA provides a legal and ethical forum for the exchange of information between Industry and Government on National Security issues. NDIA members foster the development of the most innovative and superior equipment, training and support for warfighters and first responders through our divisions, local chapters, affiliated associations and events.