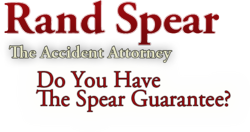 Philadelphia, PA (PRWEB) September 10, 2012
Rand Spear now provides legal services for automobile accident victims in Philadelphia, PA. As a premier accident attorney in Philadelphia, Rand Spear can offer extensive legal expertise when it comes to automobile accidents. He also serves injured people in Pennsylvania and New Jersey.
Rand Spear wants his clients to know that even though a car accident may leave them with serious concerns about the future, they don't have to let an auto injury go by without a fight. Rand Spear can represent accident victims and get them the medical care and financial compensation they deserve.
Rand Spear will guide his clients throughout the process and make sure they get the full compensation they deserve because many people who have been injured in a car accident do not realize the full potential of funds and benefits they are entitled. Some type of compensation that the law requires an insurance company to pay includes medical coverage to compensate the medical professionals treating injuries sustained, property damage coverage to repair a victim's vehicle, and lost wage coverage to pay for time missed from work. The victims involved in an auto accident owe it to themselves to find out all information they can about possible financial benefits. Rand Spear works with a variety of experts, including economical, medical and vocational experts who can help victims understand the full impact of their injuries. Because of his success on numerous automobile accidents, Rand Spear is considered by many as the best injury attorney in PA.
About Spear & Greenfield, P.C:
Spear & Greenfield, P.C. is a personal injury litigation firm that handles most varieties of personal injuries including those resulting from automobile accidents, slip and fall accidents, medical malpractice, products liability, workers compensation, and social security disability. Spear & Greenfield attorneys are licensed to practice law in Pennsylvania and New Jersey.
Spear & Greenfield began as Rand Spear & Associates and was renamed January 1, 2000. The firm originally consisted of founder Rand Spear and then associate Marc F. Greenfield. The firm has grown over the years and now employs eight lawyers and over thirty support staff members.
If someone is in need of a personal injury law firm in Philadelphia, visit http://www.randspear.com for more information.