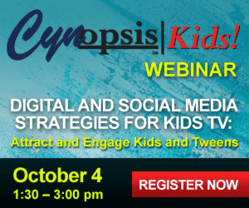 New York, NY (PRWEB) September 10, 2012
Experts from Cartoon Network, Nickelodeon, Poptropica, and The Intelligence Group will share their social media strategies for marketing to Generation Z during the upcoming webinar, "Digital and Social Media Strategies for Kids TV: How To Attract and Engage Kids & Tweens." Hosted by Cynopsis: Kids!, this interactive virtual workshop on October 4 will provide insights and tactics on how to leverage social media and other digital platforms to increase engagement with kids and tweens 15 and younger.
The Webinar kicks off a new series of offerings from Cynopsis:Kids, which includes the highly acclaimed daily newsletter, awards and benchmarking programs and professional training, workshops and webinars.
Industry experts, such as Jamie Gutfreund (The Intelligence Group), Jim Mollica (Nickelodeon), Scott Thomas (Cartoon Network) and James Lema (Poptropica), will share smart, proven strategies and tactics that have led to successful engagement with their audience. This Cynopsis webinar is designed to bring you must-have strategies and tactics that will help you attract, engage and connect your properties across multiple platforms, from mobile to tablet, and from Facebook to Tumblr.
Beyond the TV screen, there are dozens of new ways to build brand loyalty among these young viewers - and during this information-packed 90-minute webinar, we'll show you how, addressing such topic as:

Attracting Generation Z by using digital and social media sites such as Facebook and Twitter
Increasing fan engagement and sharing to deepen kids' connection with shows and characters
Optimizing original content on social media platforms such as Facebook and Twitter to extend engagement time with kids and tweens
Driving engagement and loyalty with turnkey apps for kids and tweens
Identifying when and how to change your social media strategy to maximize results
How to connect brands with its audiences in a safe and secure way
Employing mobile social media marketing to connect your shows and characters with kids and tweens
Harnessing meaningful data from your audience
This highly interactive seminar will allow for real time Q&A's to ensure specific questions are answered.
To register for Cynopsis Kids' "Digital and Social Media Strategies for Kids TV" webinar, visit: https://video.webcasts.com/events/cyno001/43695
Webinar attendees receive full access to speaker presentations along with a certificate of completion. Webinar tuition is based on location, not number of participants, so each registration site can have multiple participants for one low price. Questions? Contact Trish Pihonak at trish(at)cynopsis(dot)com.
About Cynopsis Media
Cynopsis Media is a division of Access Intelligence LLC. The Cynopsis Media family of products includes Cynopsis, Cynopsis: Digital, Cynopsis: Kids and Cynopsis: Sports daily e-publications, weekly Cynopsis: Classified Advantage e-publication, Special eReports, Event/Summits and a strong database of Classifieds and more. Visit cynopsis.com.