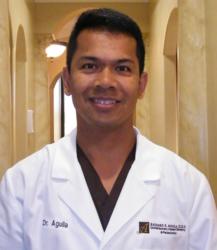 Jacksonville, FL (PRWEB) September 08, 2012
At Contemporary Implant Dentistry & Periodontics Dr. Richard E. Aguila is pleased to announce the availability of the Laser Assisted New Attachment Procedure for periodontal disease treatment. LANAP is an advanced treatment procedure that uses the PerioLase MVP-7 laser to provide treatment for gum disease. This laser is highly selective and allows healthy gum tissue to remain while at the same time removing diseased tissue and bacteria.
Dr. Aguila provides the LANAP laser treatment to his patients in Jacksonville, FL. This is the only protocol that has been cleared by the FDA for periodontal disease treatment. It removes the damaged gum tissue while allowing healthy tissue to remain behind. This results in fewer instances of receding gums after surgery. Because a laser is being used to remove bacteria and manipulate the gums, there is very little pain or discomfort associated with this procedure.
Millions of adults suffer from the affects of gum disease, which can include bleeding gums, receding gums, tooth loss, and bone loss in the jaw. However, these dental problems are not the only ones that are linked to this disease. Other serious health problems such as pancreatic cancer, heart disease, diabetes, low birth-weight babies and others have been linked to periodontal disease. Getting treatment for this problem is important, but many people do not receive the treatment they need.
With the LANAP procedure, patients will find that one treatment is usually all that is required to effectively improve their condition. Laser surgery is not very invasive and has minimum pain. Dr. Aguila hopes that more patients will come forward for treatment with the advent of this new procedure. For more information on the LANAP procedure, visit http://www.laseranddentalimplants.com.
Richard E. Aguila, D.D.S is a periodontist offering patients personalized dental care for Jacksonville, FL since 2010. Dr. Aguila received his Bachelors of Arts degree in Chemistry and Doctor of Dental Surgery from West Virginia University. He completed a hospital-based General Practice Residency at the Naval Medical Center- San Diego. He practiced general dentistry in the Navy for six years before pursuing his specialty training in periodontics and dental implant surgery at the Medical University of South Carolina. During this time he obtained his Certificate in Periodontics and Masters in Health Sciences with honors. Dr. Aguila has been practicing periodontics and dental implant surgery exclusively since 2001. He is part of one percent of dental professionals providing the most recent FDA cleared laser procedure for gum disease and periodontal treatment. To learn more about Richard E. Aguila, D.D.S and his dental services visit his website at http://www.laseranddentalimplants.com and call (904) 638-7980.