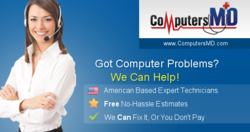 Because this spyware looks so realistic, it can really panic some users. It's important for people to understand that it's actually a malicious piece of software; and absolutely not a legitimate program from the government.
San Luis Obispo, CA (PRWEB) September 11, 2012
According to ComputersMD, an online computer repair company specialized in virus removal, the virus targets millions of internet users all over the world. The 'United States Cyber Security' virus can easily infect a computer from any unsecure website on the web. Once it infects a computer, it uses the United States Cyber Law as cover for its malicious intentions. It locks a computer and uses the IP address and geolocation to alert that he/she has violated cyber law. It uses impeccable English to quote several clauses in the United States Criminal Code to support the crimes it accuses the internet user of committing. This is accompanied by a fake punishment statement which threatens the user of a jail term, unless a fine is paid.
The virus alerts the user that he/she is guilty of the following crimes and should pay a fine to unlock the computer or risk a jail term:
● Violation of the Copyright and Rights law, which attracts a fine of $200-$500 or a jail
term of 2-8 years.
● Watching, distributing or downloading illegal pornographic content (Child, zoofila, etc),
of which the user may face a jail term of 2-12 years.
● Neglectful use of the computer, which may have been caused by an illegal access
prompted by a malware. This attracts a fine of up to $100,000 or a jail term of 4-9
years.
The virus also issues a fake threat that a criminal case may be initiated against the user unless a fine of $200 is paid via Moneypak within 24 hours. This allegedly unlocks the computer within 48 hours and the case is dropped. However, as established by the ComputersMD, the Department of Defense functions differently. If anyone is suspected of cyber crime, he or she will be contacted directly without a prior request to pay any fine.
The only way to unlock an infected computer is to permanently remove the virus. There are four main ways to effectually do this. One of them is the use of Antivirus or Antimalware software. The software has to be transcendently strong and up to date to be able to effectively remove the virus. If this is not effective a user could manually kill the virus process and remove all the related directory files and accompanying registry entries. Another malware removal method is troubleshooting the infected computer after booting via 'Safe Mode with Networking'. Finally, one could also remove the virus by estoring the entire system to a date and time prior to the infection. Due to the complexity of the removal process, infected computer users are highly recommended to consult ComputersMD for fast and effectual removal of the 'United States Cyber Security' virus.
ComputersMD is a computer services company which has the relevant expertise to effectively remove any type of virus and restore a computer to its prior state before the infection. Apart from that, the company also provides technical support in setting up and managing system security and wireless networks; technical problem solving and computer speed boosting.