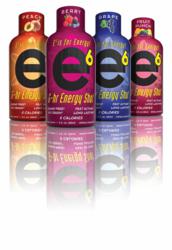 50 Free Tickets and Energy Shots and Strips
Idaho Falls, Idaho (PRWEB) September 10, 2012
Legendary Rock bands, Great White and Slaughter will be playing at Chester's Grand Teton Harley Davidson 10th Anniversary Party in Idaho Falls, Idaho on September 14th and 15th, 2012. And making sure all you Rock and Rollers are energized is E6 Energy Shots and Strips.
E6 Energy is giving away 50 free tickets to the event, and going to be on hand giving away free energy shots and strips so everyone can rock the concerts and enjoy all the fun at the two day street party. There will be tons of Harleys, prizes and great food.
Claim free tickets at https://www.facebook.com/E6Energy Limit 2 per email address.
For anyone who can't make the concerts, E6 Energy has it covered. As part of the celebration at Chester's Grand Teton 10th Anniversary, E6 Energy is giving away its Energy Shots and Energy Strips. Have E6 Energy Shots and Strips delivered straight to the door this week only for free!
Go to http://shop.e6energy.com/free-trial-of-e6-energy-shots-or-strips and add to cart one of any desired flavour. But hurry as the supply is going fast.
E6 Energy Apps are available at:
Apple App Store: http://itunes.apple.com/ca/app/e6-energy-shots-and-strips/id534187710
Android App Store: https://play.google.com/store/apps/details?id=com.scottp.e6energy
E6 Energy® really works. Each 2 oz. bottle or two strip serving is packed with essential B-vitamins, nutrients found in healthy natural fruits, meats and vegetables. And an Energy Blend containing about the same amount of caffeine as a great, strong cup of coffee yet without the subsequent high/low crash and usual bad coffee breath or taste. What it does NOT contain is sugar, calories, or herbal stimulants.
So the next time your body needs a boost, instead of reaching for a sugary energy drink or bitter tasting shot, please try E6 Energy® Shots or new E6 Energy® Strips.
About E6 Energy® Shots and Strips
E6 Energy® Shots and Strips are fast-acting, long-lasting, Sugar and Aspartame free, zero calorie energy boosters. Their unique special blend of B vitamins, Amino Acids and Caffeine not only elevate your energy levels without the all too common 'Caffeine Jitters', they also improve mental performance, enhance memory and concentration without the energy crash all too common with most energy drinks.
E6 Energy® Shots and Strips are available at over 20,000 retail outlets, in the United States, and Online.
Information about E6 Energy® can be found online and through mobile channels at :
Podcast:  http://E6Energy.MyPodcastWorld.com
Twitter:    http://www.Twitter.com/E6Energy Hashtag: #E6Energy
Media Contact: Paul Marquardt, 21st Century Brands: customerservice(at)e6energy(dot)com or call 1-800-959-9880