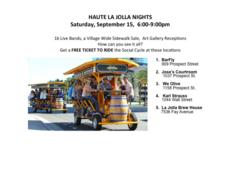 If people come to Haute La Jolla Nights expecting a handful of street musicians with their guitar cases out, they will be blown away by the scale of the event and the level of musical talent
La Jolla, CA (PRWEB) September 09, 2012
Summer is coming to a close but it's still hot, hot, haute in La Jolla Village with a free event that brings together live music, unique shopping experiences, world-class art and exceptional dining. Haute La Jolla Nights is FREE to the public.
MUSIC - 16 musical groups will perform everything from blues, jazz, pop, bluegrass, rock alternative and a whole lot of rock & roll throughout the Village.
SHOPPING – From haute couture to fashion for your home, La Jolla Village has it all. Over 75 shops are staying open late and putting on a huge sidewalk sale throughout the entire Village of La Jolla.
ART - This former "Art Colony by the Sea" is home to a vibrant and diverse art scene. La Jolla's many, world renowned art galleries are throwing open their doors to welcome the public to receptions and exciting new exhibits.
DINING – The many fine restaurants in La Jolla are offering food and drink specials for the Haute La Jolla Nights event.
With 16 bands and so many other attractions, how can visitors see it all?
GET A TICKET TO RIDE – Visitors can hop on the Social Cycle - a Dutch style bicycle/trolley that is powered by it's riders. The Social Cycle is free to all who want to ride and will make a continuous loop throughout the Village during Haute La Jolla Nights. But passengers must have a ticket to ride. Tickets are free and can be picked up at any to these sponsoring restaurants:
BarFly La Jolla – 909 Prospect Street
Jose's Courtroom– 1037 Prospect Street
We Olive– 1158 Prospect Street
Karl Strauss – 1044 Wall Street
La Jolla Brew House – 7536 Fay Avenue
The La Jolla Village Merchants Association created Haute La Jolla Nights to make La Jolla an exciting night-time destination. "We kicked off Haute La Jolla Nights in June and have had two very successful events. The September 15th event is the last in this summer's series but we plan to bring back even more Haute La Jolla Nights events next year," says Phil Coller, President of the La Jolla Village Merchants Association.
By all standards, the first 2 events were extremely successful. "If people come to Haute La Jolla Nights expecting a handful of street musicians with their guitar cases out, they will be blown away by the scale of the event and the level of musical talent," said Sheila Fortune, Executive Director at the La Jolla Village Merchants Association.
The September 15th event is the final Haute La Jolla Nights event of the summer. Anyone who loves live music, shopping, art and great food should come to this fun, festive and free event.
Haute La Jolla Nights is sponsored by the La Jolla Village Merchants Association (LJVMA).
The LVMA is a non-profit organization dedicated to promoting the businesses in La Jolla Village and making La Jolla a world class destination. The La Jolla Village Merchants Association os partially funded by the City of San Diego's Small Business Enhancement Program. They are located at 7734 Herschel Ave. Suite G, La Jolla CA 92037.