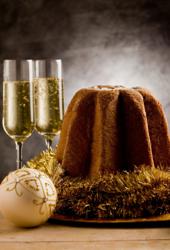 Youngstown, OH (PRWEB) September 10, 2012
With the arrival of another September, the master bakers in Italy will begin to create the fluffy sweetbread that has been enjoyed during holiday celebrations for centuries, panettone.  This cupola shaped cake will be painstakingly produced to exacting standards throughout the month to satisfy the growing worldly demand especially for Christmas and New Year holiday celebrations.  This attention to the baking process yields a delicious cake that will maintain its flavor for one year, until production starts up the following September.  It is essential to use vey high quality ingredients since panettone is imported only one time per year.  Some producers of gourmet panettone, such as Flagmini, are so dedicated to the quality of their brand, that they use a "mother yeast" to produce their panettone.  This process involves "growing" new yeast every year by harvesting a piece from a football size block of yeast that is over one hundred years old. These pieces are incubated in order to grown all the yeast needed to produce the highest quality panettone needed for the season.
At our Italian Food store, GourmetItalian.com, we pride ourselves on having the best selection of Panettone, while simultaneously bringing the highest quality exported by these Italian master bakers. Authentic Milanese panettone has a distinctive flavor and level of quality that large American and Latin companies who mass-produce panettone, cannot achieve. This means that there is a limited production, and therefore a demand for these boutique, quality brands. Many establishments in the US sell the cheaper, mass-produced cakes due to availability and price.