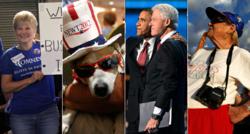 Columbus, OH (PRWEB) September 21, 2012
The political conventions have come to a close and the presidential campaign season now enters the home stretch.
American workers will be participating in the political process at all levels -- from making voting choices to discussing the campaign with co-workers and others, to actually participating in campaign activities until Election Day on November 6.
"Expressions of political interest must be treated with sensitivity by employers," says Kim Bolin at Horizon Business Solutions. In today's diverse workplace disagreements about political leanings is a normal part of the landscape. Emails, social media postings and other displays of political allegiance can lead to tense times in today's workplace if not handled properly.
And this is true of not just of employees, but of employers. Employers have their own set of political opinions and should be careful about how they are perceived by employees.
A case in point is a recent political rally for Republican presidential candidate Mitt Romney. The former Massachusetts governor had an audience of hundreds of coal miners at a campaign stop in Bealsville, Ohio. The mine was closed for the day of the event and parent company, Murray Energy claimed security concerns were the primary reason for the closure. They later admitted the attendance at the political rally had been made mandatory.
After the event, some of the miners phoned into a talk radio show, WWVA, in nearby Wheeling, West Va., saying that they missed a paid day's work to attend the event because they felt their jobs might be in danger if they skipped it and the Secret Service disclosed that the mine's closure had not been requested during the Romney visit.
"We are talking about an event that was in the best interest of anyone that's related to the coal industry in this area or the entire country," Murray Energy CFO Rob Moore told David Bloomquist, host of the show, adding that no one was pressured into attending the event.
Bloomquist later told the Cleveland Plain Dealer he disagreed with Moore.
"My whole point is that nobody should be pressured into attending anyone's political event," Bloomquist says. "If they shut the mine down, why should they lose a day's pay? There are some guys that just want to go to work, feed their family and go home."
The mine workers are not members of a union, but according to an article in the Columbus Business First newspaper, an Ohio has asked for an investigation into the matter. The paper reported that Becky Williams, president of the Service Employees International Union District 1199, sent letters to the U.S. Department of Justice and the Ohio Department of Commerce asking for an investigation to determine if the workers were forced to attend the rally without pay.
"Because potentially heated issues and events arise during election seasons, companies need to make policies on political participation very clear, in order to avoid infringing on free speech rights, and to avoid disputes over whether employers should pay or not pay employees for time spent involved in political activities," says Horizon's Bolin.
Companies are well advised to respect the free speech rights of employees but they must also take a proactive stance to avoid awkward situations. Policies can cover a wide range of topics, including political buttons and clothing to political posters on a wall to water cooler discussions that might get out of hand.
Horizon Business Solutions offers provides sound business advice on issues including paid time off and management of HR issues. If you need help managing your business call the experts at Horizon today at 614-577-1700 or visit their website at http://www.horizonbiz.com.