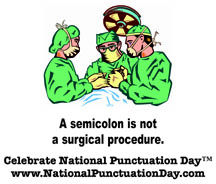 Successful people have good communication skills, and that includes knowing how to write properly.
Pinole, CA (PRWEB) September 11, 2012
The ninth annual National Punctuation Day (NPD), the September 24 holiday that reminds America that a "semicolon is not a surgical procedure," celebrates the 2012 presidential election with a literary challenge — vote for your Presidential Punctuation Mark in one, highly punctuated paragraph!
The rules for contestants competing for a box of punctuation goodies are: Write one paragraph with a maximum of three sentences using these 13 punctuation marks to explain which should be "presidential," and why: apostrophe, brackets, colon, comma, dash, ellipsis, exclamation point, hyphen, parentheses, period, question mark, quotation mark, and semicolon. You may use a punctuation mark more than once, and there is no word limit.
Contest entries must be received by September 30 to be considered for prizes.
Founded in 2004 by former newspaperman Jeff Rubin, NPD is listed in Chase's Calendar of Events and The Teacher's Calendar, two directories published by McGraw-Hill.
The NPD website, in addition to highlighting the latest in literacy news and featuring incorrectly punctuated signs from all over the world, serves as a resource that helps educators teach good writing skills and helps students understand the basics of punctuation. Business people worldwide use it as a reference guide.
There's even a punctuation newsletter! The Exclamation Point! contains articles on the latest literacy news from around the world, book reviews, and commentary.
NPD is celebrated in public and private schools, and universities, businesses, and corporations with activities, games, programs, and contests. It has inspired people to pay attention not only to their p's and q's, but also their commas, semicolons, and ellipses. NPD reminds us of the importance of proper punctuation for communicating clearly at home, school, or at work.
NPD has received worldwide media attention. Each year, Rubin is a guest on dozens of radio shows, and NPD receives significant newspaper coverage throughout the United States and the world. NPD has been covered in Canada, England, Korea, Australia, Ghana, and the Philippines.
"Casual shortcuts bred by e-mailing and text messaging have no place in school papers or professional business writing," Rubin says. "In the business world, words have power and help decision-makers form impressions immediately. Careless punctuation mistakes cost time, money, and productivity.
"Successful people have good communication skills, and that includes knowing how to write properly. Punctuation counts. A misplaced comma can alter the meaning of a message."
Visit the NPD website to learn how schools and companies can participate in National Punctuation Day and to schedule an interview with Jeff Rubin.
HOW TO CELEBRATE NATIONAL PUNCTUATION DAY
What can you do to participate in National Punctuation Day on September 24?
1. Visit the NPD website to become familiar with punctuation rules and issues.
2. Organize punctuation activities at your school, library, or office.
3. Share punctuation peeves with founder Jeff Rubin on his website.
4. Send photos of incorrectly punctuated signage to Jeff Rubin at his website.
5. Forward this information to spread the importance of proper punctuation.