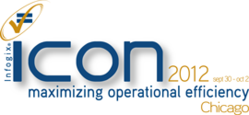 Naperville, IL (PRWEB) September 07, 2012
Infogix Inc., the leading provider of business operations management solutions, today announced its upcoming ICON 2012 conference will include a track entitled "Business Operations and GRC" that will instruct business operations leaders, risk managers, compliance officers, IT personnel and financial executives on how to improve governance, risk management and compliance (GRC) processes by establishing better controls, analytics and visibility into critical business information. The track features a panel discussion that will be led by Michael Rasmussen, an internationally recognized pundit on GRC who is noted as the "Father of GRC" for being the first to define and model the GRC market in 2002 while at Forrester Research, Inc.
ICON 2012 will be held Sunday, Sept. 30 - Tuesday, Oct. 2, 2012 at Chicago's Westin River North hotel.
Rasmussen is the founder and CEO of Corporate Integrity, LLC, a GRC strategy advisory firm providing leadership in education, research, and advisory services. Prior to founding Corporate Integrity, he was a Vice-President and Top Analyst at Forrester Research.
"Along with the expert guidance Mr. Rasmussen will provide, attendees will have the opportunity to learn from executives with Infogix enterprise customers that have successfully addressed their operational challenges," said Sumit Nijhawan, chief executive officer, Infogix.
Sessions and workshops will discuss current topics, the evolution, and future drivers for business operations and GRC. These sessions will also include speakers from Huntington Bank, Kemper Corporation, MetaBank, and Progressive Insurance.
A second ICON 2012 track, Healthcare Reform: Achieving Operational Excellence, will focus on helping health care providers and payers manage costs and improve patient service levels while still complying with the federal health care legislation. ICON 2012 will provide attendees across all industries with opportunities to learn how to improve their business operations through more effective information controls and visibility.
Earn CPE Credits
Following ICON 2012, Infogix on Oct. 3- Oct. 4 will hold two full days of technical training sessions on all of the solutions that comprise its Infogix Controls Suite (Infogix ACR, Infogix Assure and Infogix ER) and the Infogix Visualization Suite (Infogix Insight, Infogix Perceive and Infogix Nexix). Up to 10.0 hours of Continuing Professional Education (CPE) credits will be available for those attending the conference, and an additional 12.0 hours for those attending the training. All CPE credits are included in the cost of the packages.
ICON 2012 Day Passes
Infogix now offers a Day Pass option which includes lunch, 6 CPE Credits and access to all track related sessions from 9am-5pm on Monday, October 1st. The fee for the Day Pass is $125.
Register to Attend ICON 2012
To register to attend the ICON 2012 Conference and Training sessions, please visit: http://infogix.com/pages/news/events/iconConference/conferenceSignupForm.aspx.
For more information, contact Crystal Irlandez at +1 (630) 505-5573 or email icon(at)infogix(dot)com.
About Infogix Inc.
Many of the world's largest enterprises depend on Infogix to transform their operations. Through the use of Infogix solutions, customers are able to control, analyze, and improve their operations by realizing the full value of the Infogix Business Operations Management solution. Since 1982, Infogix has been providing Infogix Controls Solutions to Global 2000 enterprises. Millions of Infogix Controls continuously monitor and assure the integrity of information in hundreds of enterprises each day. For more information, call +1.630.649.6800 (U.S, Canada, and International), or visit http://www.infogix.com today.
Infogix is registered with the National Association of State Boards of Accountancy (NASBA) as a sponsor of continuing professional education on the National Registry of CPE Sponsors. State boards of accountancy have final authority on the acceptances of individual courses for CPE credit. Complaints regarding registered sponsors may be addressed to the National Registry of CPE Sponsors, 150 Fourth Avenue North, Suite 700, Nashville, TN, 37219-2417. Web site: http://www.nasba.org