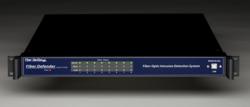 "Enhanced perimeter fence protection represents an opportunity to offer a high security solution designed with cost savings and efficiency in mind," said Ed Tapanes, FSI CEO.
Hillsboro, OR (PRWEB) September 10, 2012
In response to marketplace requirements for enhanced perimeter fence security systems, Fiber SenSys, Inc. (http://www.fibersensys.com) announced a new generation of perimeter protection products. The new FD508™ Alarm Processor Unit (APU) is a 1U device that enables centralized control unit functionality and is equipped with modern communications capabilities. Online product page: http://tinyurl.com/FD508
The FD508™ APU detects intruders attempting to climb or cut through fences using the FSI proven high-security technology with a design that distinguishes between actual intruders and "nuisance alarms" that might be caused by wind, wildlife or other environmental conditions. The FD508 provides independent control of up to 8 zones, and utilizes a single-strand for sensor deployment.
FSI announced that the FD508 solution includes:

Up to 8 fully independent protection zones
Single strand sensing cable design – no loop-back required
Insensitive fiber options allowing for centralized electronics and remote zone design
Full integration with head end / annunciation systems for a total system solution when combined with other security elements such as cameras, access control systems and other third-party devices
Custom tuning software for the elimination of nuisance alarms and false positives.
About Fiber SenSys
Fiber SenSys, Inc., an Optex Group Company, is the market leading manufacturer of fiber-optic intrusion detection solutions for government and military installations, airports, oil refineries, solar power generation facilities, electrical substations, nuclear power plants and water purification & storage facilities.
For more information, please contact:
Tony Cardo, Marketing Director
Phone Number: 503-726-4467
tony.cardo (at) fibersensys (dot) com