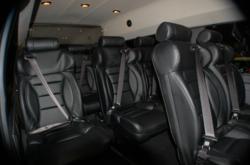 The EX8PL truly delivers everything my clients need and expect - total comfort and ease for up to 8 passengers, ample leg, hip and headroom, a 20" wide aisle that get them in and out easily and that luggage space is great."
Saugus, MA (PRWEB) September 09, 2012
Edward "Eddie" Wildman, Principal of Platinum Limousine of Saugus, MA has succeeded in the limousine industry since 2005 by doing one thing very well. Platinum is a Corporate Road Show Specialist. Rather than following the typical industry model of investing in stretches for weddings and proms, town cars and SUVs for the corporate traveler and limo buses for the "party" crowd, Platinum has chosen to focus on serving the Executive and Corporate Road Show customer. Choosing to cater to a select group with specific needs has allowed Platinum to identify and truly focus on their customers' needs and expectations. To that end, the National Executive Series was the perfect vehicle for Platinum to continue serving its high end, specialty customer.
The EX8PL Executive Series Van by NVB was chosen for its practical approach to executive transportation. Platinum's road show will also include copies of the Wall Street Journal and complimentary cold drinks stocked in the optional cooler console. "The EX8PL truly delivers everything my clients need and expect - total comfort and ease for up to 8 passengers, ample leg, hip and headroom, a 20" wide aisle that get them in and out easily and that luggage space is great." (Edward "Eddie" Wildman, President, Platinum Limousine).
EVERYTHING YOU NEED AND YOUR CLIENTS EXPECT-FOR LESS- not just a slogan!
For more information on the Executive Series by National Van Builders, please call 800 527 7477 or visit http://www.nationalvans.com.