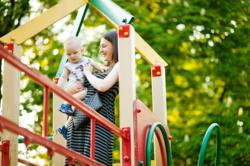 Lexington, VA (PRWEB) September 10, 2012
According to new research by the National Program for Playground Safety, working as a group to learn about playground safety creates strong, active supervision, which in turn can reduce the number of playground injuries. Improper or lack of supervision knowledge can negatively impact not only children's safety, but also their play experience. A well prepared playground supervisor should know how to promote healthy, active, challenging play without compromising safety.
Eighty percent of elementary school injuries every school year happen on the playground, and eighty-four percent of all playground accidents could be avoided through two activities: adult supervision and proper playground maintenance (National Playground Safety Institute). As stated in ParknPool's Playground Safety Guide, anyone that has been designated as a playground supervisor must be aware of the basic safety guidelines of the equipment included in a play area.
Public playgrounds are now being built to include fencing, hedges or other barriers to contain children within the playground and away from hazards such as traffic, bodies of water or steep hills. It is important to keep in mind, however, that any fencing or hedges placed around the play area still allow for unobstructed supervision. A common solution in preventing unnecessary blind spots, is to be aware of all the available sight lines. Sight lines are imaginary lines that describe the areas that a supervisor can clearly see when positioned on the playground.
An active playground supervisor should constantly move throughout the play area and must be trained to observe, not just see. Often a supervisor, if trained properly, can stop a situation from getting out of hand by simply moving closer to the children involved or by looking directly at them. By carefully observing children's behavior, a playground supervisor will begin to anticipate what a child is about to do.
Pllayground injury statistics are staggering. Recent studies show, that incorporating trained supervisors, safe equipment, and basic safety guidelines into public playgrounds these injuries can be drastically decreased. For information on choosing a site for a playground, playground safety, or to purchase new playground units call ParknPool at 877.777.3700.
About ParknPool Corporation:
ParknPool is Veteran Owned SBE/WBE Company and is the leading online supplier of commercial outdoor furniture and site amenities such as picnic tables, trash receptacles, park benches and bleachers. ParknPool was begun in 1998 in Orlando, FL and moved their headquarters to Lexington, VA in 2005. (http://www.parknpool.com)