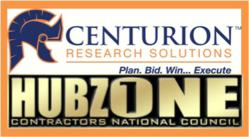 "Centurion is committed to helping small businesses in economically challenged communities succeed in the competitive federal contracting market."
- Gary Loyd, CEO
Chantilly, Virgnia (PRWEB) September 12, 2012
Gary Loyd, Centurion Research Solutions CEO, announced a formal agreement with the HUBZone Contractors National Council. Members of the trade association will receive a discount on Centurion's iNOW series of federal market products and services as well as access to the Federal Contractor Knowledge webinars, business development tips and white papers.
The HUBZone Contractors National Council is a non-partisan, non-profit trade association that supports small businesses located in communities facing significant economic challenges.
About Centurion Research Solutions
Centurion Research Solutions, founded in 2003, is a business intelligence and analytics company with a simple mission: offer products and professional services that help federal contractors efficiently win more government business. To achieve this mission, Centurion has been providing online, subscription-based products, custom research and analysis, and in-depth training. Industry leaders such as Alion, Northrop Grumman, SAIC, Lockheed Martin, BAE Systems, InDyne, CACI and Raytheon rely on these products and expertise to help them identify, analyze and win more government contracts.