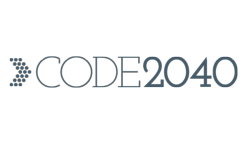 Kansas City, MO. and San Francisco, CA (PRWEB) September 10, 2012
As CODE2040 begins recruiting computer engineering students for its 2013 summer Fellows Program, its efforts will be bolstered by a $330,000 grant from the Ewing Marion Kauffman Foundation.
The Kauffman Foundation has announced a two-year matching grant to the new San Francisco-based nonprofit organization. CODE2040 matches high-performing computer engineering students from colleges and universities around the country, including those from African-American and Latino populations, with Silicon Valley startups for hands-on summer fellowships. The goal is to inspire and encourage these students, who are underrepresented in high-tech startups, to consider working for a young company upon graduation or even starting their own.
CODE2040 launched its pilot fellows program in summer 2012. Five computer engineering students from Carnegie-Mellon University, the Massachusetts Institute of Technology, Stanford University, and State University of New York recently completed their fellowships at Tumblr, Jawbone, RockMelt, Circle and Nutrivise.
"We received very positive feedback from all five companies who participated in our pilot program, as well as from the dozens of speakers, mentors and others with whom the students interacted," said Laura Weidman Powers, CODE2040's executive director. "The students learned so much and told us they now feel integrated into the Silicon Valley culture and excited to start companies of their own one day. We're eager to grow this program."
CODE2040 will be on-site at this week's TechCrunch Disrupt 2012 conference to begin recruiting more Silicon Valley tech startups to host students for next summer's program. Shortly after, CODE2040 representatives will begin visits to approximately 20 college campuses for its 2013 student recruitment campaign. Weidman Powers said the organization also intends to remotely reach out to another 25 to 30 colleges.
With Census projections indicating that people of color will be the majority in the United States by the year 2040, the leaders of CODE2040 aim to make a direct impact on the achievement gap of underrepresented populations by increasing the number who participate in America's entrepreneurial companies, whether by joining such firms or starting their own enterprises after graduation. Those who participate as fellows will also serve as role models for other underrepresented engineering students, demonstrating the feasibility of a career in high-tech entrepreneurship.
The Kauffman Foundation grant supports CODE2040's efforts to document the fellows initiative, develop educational programming and recruit students and startups.
"Through CODE2040's program, we have an opportunity to gain firsthand knowledge about the impact that access and exposure can have on shifting one's career path toward entrepreneurship," said Thom Ruhe, Kauffman's vice president of entrepreneurship. "The initiative and structure will be built and tested, and we believe it has great potential for replication in areas beyond engineering."
About the Kauffman Foundation
The Ewing Marion Kauffman Foundation is a private nonpartisan foundation that works to harness the power of entrepreneurship and innovation to grow economies and improve human welfare. Through its research and other initiatives, the Kauffman Foundation aims to open young people's eyes to the possibility of entrepreneurship, promote entrepreneurship education, raise awareness of entrepreneurship-friendly policies, and find alternative pathways for the commercialization of new knowledge and technologies. In addition, the Foundation focuses on initiatives in the Kansas City region to advance students' math and science skills, and improve the educational achievement of urban students, including the Ewing Marion Kauffman School, a college preparatory charter school for middle and high school students. Founded by late entrepreneur and philanthropist Ewing Marion Kauffman, the Foundation is based in Kansas City, Mo., and has approximately $2 billion in assets. For more information, visit http://www.kauffman.org, and follow the Foundation on http://www.twitter.com/kauffmanfdn and http://www.facebook.com/kauffmanfdn.
About CODE2040
CODE2040 brings high-performing black and Latino computer engineering students to Silicon Valley for a comprehensive summer fellowship program consisting of an internship with a top startup plus mentoring, speakers, company visits, interactive workshops, executive coaching and more. In its inaugural summer, CODE2040 fellows met executives at tech powerhouses like Google and Facebook and top venture firms like Kleiner Perkins and Greylock, worked at leading-edge startups like Tumblr and Jawbone, and visited trendsetting companies like Zynga and Square. In summer 2013, CODE2040 plans to partner with dozens of Silicon Valley's best companies to welcome 20 students into its career-launching fellows program. For more on CODE2040, visit http://www.code2040.org, and follow the organization on http://www.twitter.com/CODE2040 and http://www.facebook.com/CODE2040.