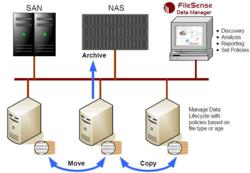 Having the ability to schedule events, and set policies to automate data movement is a real advantage.
Round Rock, TX (PRWEB) September 09, 2012
Ever wonder why your data is growing so fast? According to Gartner:
Data capacity on average in enterprises is growing at 40% to 60% year over year due to a number of factors, including an explosion in unstructured data, such as e-mail and documents that have to be stored due to "regulatory requirements that continue to evolve and change."
With the additional unstructured data coming from tablet, and smart phone mobile devices it is hard to stop the explosion of unstructured data. There are certainly a lot of tools to monitor data - it is managing the data explosion that File Sense Data Manager excels at. For example locate specific data and filter results but determine from a specific data set if concerns exist. Schedule an activity to move, copy or delete data at a future time. If you are concerned about compliance regulations set a policy and let Data Manager insure the share stays compliant with internal policy requirements.
There are plenty of tools to monitor data and some are free but none of them allow a simple to use intelligent way to manage data in the Enterprise Data Center or on individual host with policy based management - this is where File Sense Data Manager excels.
For additional information please visit: Storworks Software for more details or download a free copy to try.