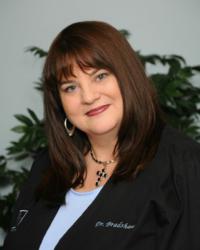 The Woodlands, TX (PRWEB) September 09, 2012
Gayle Bradshaw, D.D.S., M.S. uses implants as a very viable and long-lasting replacement option for teeth. Teeth may be missing due to an accident, decay, or even gum disease. With over 50 years of research the dental implant is an excellent solution to this problem. Not replacing teeth can lead to additional problems, and as a periodontist, Dr. Bradshaw works to prevent periodontal problems whenever possible.
Not everyone is a good candidate for a dental implant. An individual appointment to discuss the options is the first step in the process to replace missing teeth. If teeth have been missing for a period of time, the jawbone in that area may have deteriorated or eroded. If there is not enough bone for the implant, bone graft surgery may be recommended prior to receiving dental implants. Dr. Bradshaw has 3-D imaging available in her office to evaluate bone grafting needs and precisely plan implant placement.
The actual dental implant is made of titanium and is surgically implanted into the jaw. A period of healing, usually three to six months, is allowed so that the implant can fuse with the jawbone. This provides strength and also stimulates the bone. An abutment is attached to the top of the implant, and this is what holds the crown. The crown is designed to be the proper size, shape and color to blend in well with the rest of the natural teeth in a patient's mouth. The implant is carefully placed so that the crown will fit well with the other teeth and provide a correct bite for the patient.
People who are missing teeth for any reason need to visit a periodontist and discover their options. Not replacing the teeth is a poor option because the other teeth near the gap can move and get out of alignment or become loose and fall out. For more information about missing teeth and implants, visit http://www.bradshawperiodontics.com.
Bradshaw Periodontics is a periodontal practice offering patients personalized dental care for The Woodlands, Texas since 1998. Dr. Gayle Bradshaw graduated Magna Cum Laude in 1994 from The University of Texas Health Science Center San Antonio Dental School. Dr. Bradshaw and her family moved to Houston to complete her Master's Degree in periodontal surgery at The University of Texas Dental Branch where she completed her studies in 1998. In 2000, she earned her Board Certification from the American Board of Periodontology. Dr. Bradshaw is part of one percent of dental professionals providing the most recent FDA cleared laser procedure for gum disease and periodontal treatment. To learn more about Bradshaw Periodontics and their dental services visit their website at http://www.bradshawperiodontics.com and call (281) 377-8409.