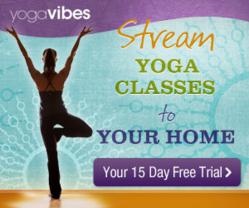 Phoebe and Erica will be blogging about their cross-country experiences, updating Facebook and Twitter, and uploading cool pictures and films.
Charlotte, NC (PRWEB) September 12, 2012
YogaVibes, a leading distributor of online yoga videos, is thrilled to help support two professional, Nike-sponsored runners, Phoebe Wright and Erica Moore, as they trek across the United States on a six-week road trip to promote running and show track fans the real lives of real athletes on an unreal adventure.
Accompanied by one enthusiastic writer and friend, Phoebe and Erica will be documenting their 42-day, 7,200-mile travels on the road. They set off from Knoxville, TN and have already tackled the daunting 22-hour drive to Denver, CO. From there, their journey continues north through Canada, down the west coast and across the southwest. Highlights include: Yellowstone National Park, Glacier National Park, Vancouver, Seattle, Yosemite National Park, San Francisco, Vegas, the Grand Canyon, New Orleans, and more! At each leg of their adventure, Phoebe and Erica are committed to embracing every physical opportunity and challenge presented.
However, it's not just runs, hikes, and climbs they'll be documenting; they'll also be featuring yoga.
As devoted yoga students of Jennifer Beyt Coffin, Phoebe and Erica were disappointed that they would miss out on her classes during their road trip. Then, they discovered that Jennifer offered online yoga classes with YogaVibes. After catching wind of YogaVibes, they decided that online yoga would be a fun add-in to their adventures. Not only that, but it would continue to provide them with mental and physical support, benefiting their practice and performance on the track.
"Practicing yoga has a dual purpose," says Phoebe. "Physically, it allows me to be a better professional athlete by aiding in recovery and flexibility. More importantly, mentally it allows me to work on patience and living in the present. I carry these lessons off the mat and onto the track. For a large majority of my season, I do not have the luxury of practicing in a studio. My racing takes me all over the world, and YogaVibes brings the studio to me. "
Phoebe and Erica will be blogging about their cross-country experiences, updating Facebook and Twitter, and uploading cool pictures and films. Along the way, they will keep on doing yoga with YogaVibes, practicing with their teacher, Jennifer Beyt Coffin. They will also be trying out Sage Rountree's online yoga classes, which are particularly well designed to support and enhance the performance of runners and athletes.
To follow their journey, check out their blog, Runnin' the Streets, or follow Phoebe and Erica on Facebook or Twitter @RuntheSts. YogaVibes will also be featuring one blog post per week to highlight the online yoga classes that Phoebe and Erica incorporate into their journey.
About YogaVibes
Looking for the best online yoga classes? Look no further! YogaVibes.com is an online realm for high-quality, authentic yoga classes and instructional videos captured in a real studio with real students. YogaVibes offers a diverse selection of classes from the best yoga teachers in the world, making learning and living yoga easy in everyday life. YogaVibes' mission: To create a supportive, challenging, and welcoming online community of passionate and inspiring yogis.