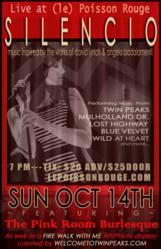 New York, NY (PRWEB) September 13, 2012
SILENCIO harnesses the mystery and dark intrigue that surrounds the cooperative works of David Lynch and Angelo Badalamenti, which have mesmerized and haunted many a subconscious over the years. There's something unique about the pairing of Badalamenti's musical scores to Lynch's dreamy scenery that is unsettling and simultaneously familiar. There's also an aura of innocence in the music that creates a timeless appeal without regard to the modern, nightmarish and sometimes corrupt scenarios presented within the films. It's these things that keep people consistently fascinated with the works of these genius artists, and it's these things that are now perpetuating the project SILENCIO.
On Sunday October 14th, SILENCIO returns to NYC and Le Poisson Rouge with the release of their debut album of original (yet highly "Lynch-ian") music. The group continues to perform selections from nearly DAVID LYNCH's entire catalog spanning "Eraserhead" to "Inland Empire." They focus on the work from "Twin Peaks" and tastefully sprinkle their original material throughout the live sets, which often times leaves the audience guessing which artist is which. Representing a range of genres, from noir-rock and reggae, Latin lounge jazz, ambient and 50's sock-hop the concert will feature several well known film instrumentals, as well as vocal numbers like Julee Cruise songs and Ketty Lester's "Love Letters." SILENCIO will tap into the stark surrealist mindscapes of Henry Spencer (Jack Nance) in Eraserhead, with Peter Ivers' "In Heaven" (sung by the "Lady in the Radiator" in the 1977 flick), and the psychopathic antics of Frank Booth (Dennis Hopper) with their rendition of Roy Orbison's "In Dreams." Perhaps most enthralling is lead singer Dessa Poljak's accapella rendition of "Llorando" (from the aptly named Club Silencio in Mulholland Drive) that has hushed and huddled audiences everywhere with its melancholy, chilling crescendo. If there were ever a group to perform for an event and capture the essence of a "damn fine cup of coffee", cherry pie and wind through the Douglas Firs, then SILENCIO is surely that group. This event is not to be missed!
Check out some photos from SILENCIO's first show at (Le) Poisson Rouge.
Sunday 10.14.12
Silencio: A tribute to the works of David Lynch and Angelo Badalamenti
w/ special guest The Pink Room Burlesque
music from Twin Peaks, Eraserhead , Blue Velvet, Wild at Heart, Mulholland Drive and Lost Highway
7:00pm doors | 8:00pm show
$20 advance | $25 day of show
All Ages
This is a first-come, partially seated event.