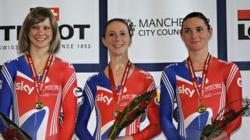 (PRWEB) September 09, 2012
Joanna Rowsell cannot afford to have have an off-day when she's training with Sarah Storey.
"If you want an easy ride, don't go with Sarah," the Olympic team pursuit gold medal-winning cyclist told C4Paralympics. "She trains so hard all the time."
It's single-minded determination which has turned Storey into the most ruthless female para-cyclist on the planet as well as one of Great Britain's most decorated ever Paralympians in history, joining athlete Tanni Grey-Thompson and swimmer David Roberts on 11 golds.
The 35-year-old won her fourth Paralympic gold medal, her sixth as a cyclist, when she obliterated the road race field with a winning margin of 7:22. Storey won five as a swimmer before an ear infection forced her to quit the pool after the Athens Paralympics in 2004.
And since beginning her cycling career in 2005, the Mancunian has created history as the first para-rider to win gold as an able-bodied athlete in last year's World Cup in Manchester, where she teamed up alongside close friend and training partner Rowsell in the women's team pursuit.
"Sarah is one of my heroes," said the 23-year-old. "She's such a hard trainer and she's so determined which comes across in her personality.
"She'll never take no for an answer. Whenever there's a problem that needs solving, she'll get things done.
"I love training with her - I don't know where she gets the energy from. She's always busy doing loads of stuff; motivational speaking, supporting numerous charities as well as her training. I would be knackered doing that.
"She does four para-cycling events on the track and road and she's trying to get into the (able-bodied) team pursuit team as well. She wants to be the best athlete she can be and she's constantly improving."
Despite helping Britain to win gold at the Track World Cup in Colombia in December 2011, Storey missed out on a place in Team GB's Olympic women's team pursuit cycling team for the London Games, where Laura Trott, Dani King and Rowsell claimed an emphatic victory over the United States.
Rowsell was one of the riders who earned the nod ahead of Storey but she refuses to see her close friend as a rival, especially in a team event like the pursuit.
"Sarah was gutted to be left out but it gave her even more determination to continue," she says.
"Doing a team event you have to adjust your training to fit in the with your team-mates, you can't always do what's right for you when it's right for you. But by doing individual para-cycling events, she can put herself first.
"She saw the positives of being left out as well as the gains she had training with us.
"Where she struggles on the track is the start, she doesn't have a left hand so she can't grip the handlebars.
"Doing team pursuit training, she has been forced to push herself to start faster to keep us with us on that first lap. After then she's fine."
However, Rowsell says Storey can still play a vital role when Great Britain defend their team pursuit title at the 2016 Olympics in Rio, where the race will be modified to include an extra rider over 4kms.
"I'm sure Sarah will have her eye on that fourth spot, especially as Wendy Houvenaghel, who was our reserve rider, is retiring at the end of the season," said Rowsell.
"I've asked her whether she's going to retire after London but I don't think she has any plans to do so soon although I know she wants children."
Those children would have among the best cycling genes in Britain as Storey's husband Barney is also a gold medal-winning member of the ParalympicsGB squad, acting as a pilot for visually impaired rider Anthony Kappes in the tandem event.
The duo are off to the Caribbean for a well-earned holiday and bask in their phenomenal achievements over the past two weeks.
And Rowsell believes her heroine deserves every moment of adulation.

For all the latest news from the 2012 Paralympics, follow @C4Paralympics on Twitter and like the C4Paralympics Facebook page