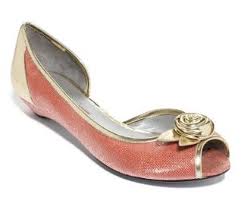 (PRWEB) September 08, 2012
New York wholesale shoe business, CloseoutExplosion.com, has launched a web site for international wholesale shoe buyers. The wholesale closeout website has been set up with the mission to satisfy the demand for brand name shoes by retailers from Africa, the Middle East, South America, Asia, and the Caribbean. While many countries are inundated with generic and private label shoes, consumers in many of these countries are now shopping for wholesale brand name shoes by designers such as BCBG, Tahari, Coach, Nine West, Calvin Klein, and DKNY.
"I have heard from wholesale shoe buyers from as far as Barbados, Botswana, Dubai, Kenya, Nigeria, Panama, and Singapore, who are looking for American wholesale shoes for their boutiques and shoe warehouses. I have set up a section in my New York wholesale shoe warehouse devoted towards high end brands at below their original wholesale prices. I can achieve this by focusing on buying department store overstock shoes, designer shoe closeouts, and seasonal remainders," said Donny Lowy, who also exports brand name designer clothing and handbags to wholesalers, importers, eBay sellers, and flea market vendors.
The market for USA wholesale footwear is based on the premise that American brands have an international following, and that there is a recognition that wholesale products made for the American marketplace are high quality. It is for this reason that there are many wholesale shoe buyers that visit wholesale showrooms in the New York Garment District, the LA Fashion District, and the Miami Wholesale District.
"As a result of a high level of Internet usage all over the world, and especially in Africa, customers located overseas are becoming very familiar with American pop culture and the brands featured in our media. For example, I have received emails from boutiques located in Africa asking me for the type of shoes that Kim Kardashian wears. There likely is a very strong demand as well for the type of shoes worn by celebrities such as Katie Holmes, Rihanna, and Katy Perry. If a footwear retailer can offer the brands by these media personalities, or at least similar styles to what they wear, they can find themselves with a profitable business. Customers have become very savvy and demand authentic brand name footwear, and have displayed a willingness to pay a premium for the right closeout merchandise," added Donny Lowy, who also offers closeout websites that cover wholesale designer suits, overstock corporate suits, and closeout electronics.
CloseoutExplosion.com has developed experience in understanding the diverse shoe requirements and preferences of international shoe retailers. For example, boutiques in Nigeria might prefer summer corporate office closed shoes by brands such as Tahari, while a shop in St Lucia might prefer a light spring open toe shoe by Nine West. Understanding the reason why a certain style of brand is in demand allows this New York shoe wholesaler to effectively serve its wholesale clientele. In addition, international customers can visit the wholesale shoe warehouse, or send a relative or friend on their behalf to make a wholesale purchase for them.