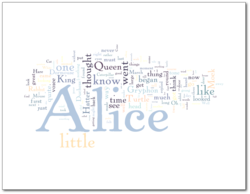 Affichionado takes traditional material, such as King James' Bible, Plato, old bar codes, clever quotes, and make them contemporary and fashionable and seriously expensive looking. Just like that."
San Francsico (PRWEB) September 11, 2012
Art is usually very expensive and exclusive. And if it is inexpensive and accessible, well then it is usually mass produced and in poor quality, printed on inexpensive, glossy cheap looking paper with dull colors, that make even the most beautiful artwork seem unattractive and blaha.
Not so Affichionado's posters. Affichionado firmly believes everyone should have clever, fun and fine, art on their walls. Thus Affichionado is introducing contemporary, high quality and beautiful designs through http://www.affichionado.com. We hope you will like our smart, exquisitely designed high quality art posters as much as we do. The prints feature modern ideas, combined with brilliant quotes, theories and words, all beautifully printed and presented. Aficionado proudly converts the eternal words of Jane Austen, Shakespeare, Dante and Lewis Caroll's Alice in Wonderland, Grimm's The Little Red Riding Hood as well as Voltaire and Wordsworth into beautiful art prints. Affichioando offers something for everyone, old and young alike.
Affichionado designs and prints our own posters, and all prints are printed in limited quantities, from 10 to 300 per print. The posters are printed on acid free, green & recycled, luxurious and thick, 300 gr/sqm high quality art poster paper. Prices start at USD 40 and shipping is free on all US domestic orders.
If you have any questions, for review samples or more information, please email johanna(at)affichionado(dot)com.
Check out our designs at http://www.affichionado.com
You can find press images here: http://www.affichionado.com/pages/press-images
Please use any information or an images from the site freely.
The name? Well affiche is a fancy name for a poster. Aficionados are connoisseurs. Aficionado is but an aficionado of affiches.