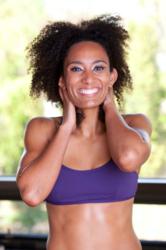 Whenever I enter one of Angela's classes, I not only know that I'm going to get an amazing full-body workout, but I also know I'm going to have fun doing it.
Greenwich, Connect (PRWEB) September 09, 2012
This health workshop brought to you by Mantra Mind Body, the newest, coolest studio in Greenwich, Connecticut brings more wellness to its community with Biff herself, Angela Hubbs. During the three hour Mantra Mind Body Event each student will learn three specific ways to detox their bodies for the fall on the fall equinox Saturday, September 22, 2012 from 12pm to 3pm.
First, each student will learn to live healthier ways to use food as medicine. Next, each student will learn basic principles of the ancient art of Reiki to create a better balance in the body. The day ends with a detox yoga class designed to eliminate all the impurities in your body and leave you feeling light, fresh and healthy ready for the fall.
Biff, Angela Hubbs is the Director of Teacher Training and a master teacher at Mantra Mind Body. She has a degree in Human Communications, is a personal trainer, a Yoga Teacher, and much more. She pulls all her expertise into her class room experiences to teach her students how to Empower their lives through exercise.
"Challenge your body. Empower your life!"