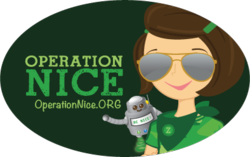 (PRWEB) September 08, 2012
Michigan author and anti-bullying crusader, Kristy Short, Ed.D, today announced the launch of her full-year Operation Nice Anti-bullying Program at Creekside Elementary in Hartland Michigan, September 10th, at 9:05 am. With complete buy in from lead administrators, teachers, and students, the event promises a positive, bully-free start to the school year.
"Operation Nice is culture changing," Short stated. "This is direct testimony from teachers and parents who have been part of my assemblies in the past. The program makes a real connection with the kids. They love the book [Zanda Humphrey's Operation Nice], the mascots, and the message. As such, they take responsibility for promoting the program right off the bat. It's amazing to hear about."
Because Operation Nice is a community-based program, it offers a universal language to teachers, parents, and students to apply when intervening and resolving bullying incidents.
"When everyone is using the same tools, it makes for a much more effective program. That's why the program offers a guide for teachers, but also a 'tool belt' for students and parents," Short stated.
The program is also supported by vivid, colorful materials (exterior plaque, posters, window clings, bookmarks, etc.) that remind students of the program's objectives and keep them engaged and involved every day. The "animation" factor is another key differentiator of the program.
Creekside Elementary serves as Short's program pilot school. Over the course of the school year, Short will work with teachers to collect data and implement improvements prior to launch to the general education public in 2013. Short already has a waiting list of schools requesting program implementation.
For more information on Kristy Short and the Operation Nice Anti-bullying Program, visit OperationNice.ORG.
About Kristy Short and the Zanda Humphrey Book Series
Kristy Short, Ed.D, has been writing stories for kids since she was a kid herself—creating her first book when she was in the 3rd grade. She has a clear passion for writing creative tales about magical inventions and exciting adventures, and at the heart of all her stories is a love and necessity for active, perpetual imagination.
The Zanda Humphrey series for young readers was created for Short's elementary school-aged nephew. In 2010, she was asked to participate in her nephew's school's "Mystery Reader" program, and when she wasn't able to identify a book she wanted to read, she wrote her own. Her first book, Zanda Humphrey's Big Sweet Invention, showcases Zanda's Cake-o-matic, a magic cupcake-making machine. Short was asked to return in 2011. For the event, she wrote Operation Nice and created the Operation Nice Anti-bullying program. Learn more at OperationNice.ORG.