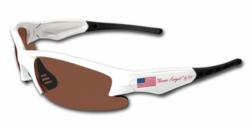 Monument, CO (PRWEB) September 07, 2012
MAXX HD® Sunglasses is pleased to give our support of the National 9/11 Memorial Fund and to embrace the foundation's motto of 'Restore. Empower. Inspire.' With every purchase of a pair MAXX HD® 9/11 Tribute sunglasses we will donate $9.11 to National 9/11 Memorial Fund its supporters and its cause.
The National September 11 Memorial Museum at the World Trade Center will bear solemn witness to the terrorist attacks of September 11, 2001 and February 26, 1993. The Museum will honor the nearly 3,000 victims of these attacks and all those who risked their lives to save others. It will further recognize the thousands who survived and all who demonstrated extraordinary compassion in the aftermath. Demonstrating the consequences of terrorism on individual lives and its impact on communities at the local, national, and international levels, the Museum will attest to the triumph of human dignity over human depravity and affirm an unwavering commitment to the fundamental value of human life.
"From our tiny spot in America, I am proud to be a business owner and have the ability to remember and honor the thousands of innocent men, women murdered by terrorists in the horrific attacks of September 11, 2001," stated Rick Milner, Maxx HD® Sunglasses CEO. "Our 9/11 Never Forget sunglasses will not only protect the eyes of many, they will also show the world, that we are proud to be American."
To learn more about MAXX HD® sunglasses or to purchase their 9/11 Never Forget sunglasses please visit their website at http://www.maxxsunglasses.com . To learn more about the National 9/11 Memorial fund visit their website at http://www.911memorial.org