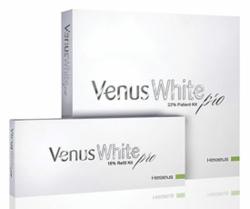 The Venus White Pro does an excellent job of whitening my patients' teeth. I am thrilled with the idea that our dental office, along with our patients can buy a product and support breast cancer research at the same time
Marietta, GA (PRWEB) September 11, 2012
Venus White Pro is a mint flavored teeth whitening system using custom-fit trays for simple at home use. Heraeus Kulzer, LLC makes available an opportunity for dentists to partner and help support breast cancer research. A portion of each sale is donated to the cause. "The Venus White Pro does an excellent job of whitening my patients' teeth, and the results have been terrific. I am thrilled with the idea that our dental office, along with our patients can buy a product and support breast cancer research at the same time," says Kirk Kimmerling DDS, Cosmetic Dentist Marietta, GA.
The Venus teeth bleaching gel is a system used to whiten natural teeth. Patients have an impression of their mouth taken, so custom trays can be formulated for an exact fit. The trays hold whitening gel against the teeth, and the 22% carbamide peroxide bleaches. Teeth are brushed and flossed before trays are inserted, allowing the process to be more effective. The whitening gel comes preloaded in syringes, making use simple. A small pearl of gel is placed for each tooth in the tray, as a typical use requires approximately half to one third of a syringe. The remainder can be used at a later time. Once filled, the trays are positioned over the teeth and pressed for a tight fit. Any excess gel should be wiped away, as it can push beyond the brim of the trays. After whitening, trays are removed and teeth brushed to remove remaining gel. Trays should be cleaned and stored in a cool dry place.
If sensitivity or irritation occurs, it is best to have the dentist take a look. For added information on the Venus White Pro teeth whitening Marietta system, click http://www.MyVenusSmile.com.
Kirk Kimmerling, DDS, Alex Krempa, DMD and Suzanna Aguilera, DMD are cosmetic and Marietta dental implants dentists in Marietta, GA that are literally paving the way for the future of dentistry. The office is technologically sophisticated in not only equipment and procedures, but also developing dental materials via Kimmerling Holdings Group, LLC and fiteBac SkinCare, LLC, Dr. Kimmerling's biotechnology firms. The office maintains 13 operatories, each of which is equipped with a display monitor on which digital x-rays and intra-oral pictures can be examined, and patient education videos can be viewed. The office also employs highly advanced technologies, including: (1) Logicon, a program that can digitally measure the extent of tooth decay, which allows detection of 20% more cavities and helps prevent misdiagnosis; (2) "Collimators," a conduction of x-ray tube heads that decrease radiation exposure to the patients and staff by 5-fold; and (3) iTero, an advanced restoration impression system and digital scanner that produces more accurate restorations than traditional methods. The overall well-being of each patient can also be improved by adding a DNA salivary test, which allows the office professionals to better determine a patient's specific risk of periodontal disease as well as certain types of oral cancer. The office is the first to use fiteBac SkinCare Germicidal Hand Softening Gel, an advanced hand sanitizer without the harshness to skin from traditional alcohol-based hand sanitizers. Drs. Kimmerling, Krempa and Aguilera invite new patients to meet their exceptional staff and experience and benefit from state of the art dental care.