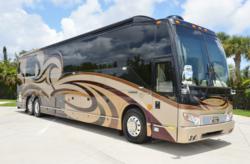 This is a tremendous opportunity for anyone looking to own the best coach on the road for the best price anywhere.
North Chicago, IL and Stuart, FL (PRWEB) September 10, 2012
With Liberty Coach riding the wave of its strongest first-half sales in years, it's only natural that the company's inventory of pre-owned motor coaches would grow accordingly, as loyal coach owners trade up for the latest Liberty models.
That's not to say pre-owned coach sales haven't been strong; quite the opposite, in fact. And the company expects no letup anytime soon, thanks to a particularly good selection of pre-owned bus conversions built between 2001 and 2009, including seven for sale from Liberty directly and another nine offered on consignment through the company's dealership in Stuart, Florida.
Detailed descriptions and specs on each model can be obtained from the company's website at http://www.libertycoach.com/available-coaches. Contact Dave Wall, General Manager of the Florida dealership, for more information and a private showing and test drive.
"This is a tremendous opportunity for anyone looking to own the best coach on the road for the best price anywhere," Wall pointed out. "Keep in mind that every coach in the inventory undergoes the most thorough inspection and service regimen imaginable before it goes on the floor.
"When we say they're as good as new, we mean it. Because they have to meet the highest quality standards in the industry: ours."
A limited selection of new Liberty Coaches are also available, though the number is dwindling as the strong sales continue with no letup in sight. In fact, a pair of sales just prior to this writing leaves just three new coaches available in our current inventory.
These include two of our most spectacular 2013 models: the No. 752 Triple Slide Lorenzo Edition and the No. 750 Double Slide Verona Edition. Both feature exclusive one-of-a-kind paint custom exterior paint designs created by master painter Dean Loucks and The Art of Design, matched by state-of-the art interior designs and equipment, including Crestron remote control systems, Miele and Sub-Zero appliances, and Bosch washer/dryers. One 2012 model, the No. 738 Double Slide Verona Edition, rounds out the bus conversion inventory.
"All three of these coaches represent the latest generation in Liberty design and technology," company Vice President Frank Konigseder points out. "From the extraordinary space of our Super Slide Bedroom Slideout, to the unmatched combination of power, efficiency and dependability of the Volvo D-13 engine, no motor coach compares."
With locations in Stuart, FL and North Chicago, IL, Liberty Coach has been providing legendary leadership in the luxury motor coach industry for over 40 years. For more information about Liberty's custom Prevost motor coaches, please visit http://www.libertycoach.com or call 800-554-9877.