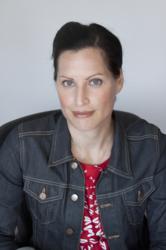 With Kim's leadership we're able to leverage our ecommerce expertise and rethink the power and reach of analytics in the design and measurement of digital consumer experiences
San Francisco, California (PRWEB) September 10, 2012
Fluid, Inc., creator of on-demand ecommerce solutions and award-winning digital agency services, today announced that Kimberly Williams-Czopek has joined Fluid to serve as director of analytics to chart new innovation in ecommerce analytics.
"With Kim's leadership we're able to leverage our ecommerce expertise and rethink the power and reach of analytics in the design and measurement of digital consumer experiences from shopping to engagement to awareness," said Andrew Sirotnik, chief experience officer of Fluid Inc. "We have always been focused on delivering results and learning what works for retailers. By becoming an even more integral part of our clients' measurement and analysis process, we can help ask the right questions and respond to the answers with our design practice."
Williams-Czopek has more than 18 years of experience in digital strategy, information architecture, user research, analytics, and user experience design rooted in social design principles. At Fluid, she works with clients to establish key performance indicator (KPI) strategies and analytics centers of excellence, transform data into actionable insights, and prove the return on investment (ROI) behind design choices.
Prior to joining Fluid, Williams-Czopek was the managing director of Fry Design at MICROS-Retail, where she worked with clients like Lilly Pulitzer, Panasonic, Cabela's, Goodyear Tire & Rubber Co., and Godiva to design unforgettable and measurably successful customer experiences. Williams-Czopek holds a Usability Analyst Certification from HFI, a Project Management certification from Gartner IT group, a bachelor of arts degree in English from the University of Illinois, and a master of science degree in Organizational Leadership from Norwich University.
"Too few brands tie articulated, ecommerce business goals and objectives to measurable, key digital performance indicators. There may be a notion of traffic, conversion, and revenue and, at best, the numbers are reviewed monthly to make sure there haven't been any big changes. Brands are swimming in a sea of data, victims of analysis paralysis, not knowing how to interpret the data or get at the 'why' behind the 'what,'" said Williams-Czopek.
About Fluid's Analytics Practice
The analytics practice is designed to support clients in their desire to make more data-driven design decisions and to better track and identify visitor and customer behavior across digital experiences as part of their attention to continuous improvement and innovation design. Analytics activities can be a part of a full design project, or can be offered to clients with specific analytics consulting needs.
Goals of the Fluid analytics practice include:

Achieving a deeper understanding of customer behavior and motivations
Answering the "why" behind the "what"
Making quantitatively as well as qualitatively informed design decisions
Working within a clear framework for measuring success and proving ROI
Getting past analysis paralysis and turning mountains of data and isolated metrics into insights and actions
About Fluid
Fluid's on-demand Fluid Retail Platform of online visual merchandising solutions and award-winning digital agency services incite consumer action. Our work for world-class customers like The North Face, Quidsi Brands, Sears, Benefit Cosmetics, JELD-WEN, and Brooks Brothers spans consumer experiences across the web, social and mobile. Brands and retailers tap our unique combination of strategic consulting, custom design and development services, and our scalable, easy-to-implement e-commerce products to delight and engage today's digitally savvy consumers, while building engagement, increasing brand loyalty and driving conversions.
Fluid is headquartered in San Francisco, with offices in New York and Chicago, and customers spanning the globe. For more information, visit http://www.fluid.com, and follow us on Twitter @Fluid or Facebook/FluidInc.
--