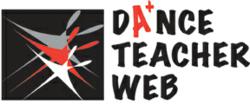 Think of Dance Teacher Web as the dance teachers private seminar or conference delivered directly to them wherever and whenever they want it!
(PRWEB) September 19, 2012
Rave reviews are pouring in from the worldwide dance teacher community about the all new DanceTeacherWeb.com . Dance Teacher Web is the leading resource that provides the most-wanted choreography, innovative concepts, and the top business tools for dance studio owners. It is the ultimate online hub where members can go to ignite their creativity, find answers to troubling business questions, and discover special How To teaching secrets to help their students reach new heights. Dance Teacher Web is the place where dance teachers can gather to exchange ideas and recharge the batteries with the support of their peers.
"Think of Dance Teacher Web as the dance teachers private seminar or conference delivered directly to them wherever and whenever they want it!" says co-founder Steve Sirico.
The top three new features include: Upgraded HD video players that can play on full screen, new business tools that include forms, sample ads, articles and teleseminars by industry professionals like choreographers Napoleon and Tabitha, and an advanced search option that helps members quickly find what other members are looking for online. What these upgrades mean to the members is that they can quickly access valuable information, ideas, and tips.
"Using Dance Teacher Web is like having your own team of dance professionals or business coaches ready to help at a moment's notice." adds co-founder Angela D'Valda Sirico.
To view a sample of videos offered click here
"The new website gives members more of what they told us they wanted. Quick to find, easy to follow breakdowns of routines, teaching tips and business advice that will make a big difference to the business owners bottom line," says Steve Sirico.
Click on this link to view dance teacher articles.
Angela D'Valda Sirico adds, "We love working with dance teachers. Their passion, energy and commitment are second to none. That's why we created Dance Teacher Web; our mission is to help them improve their lives!"
To celebrate the new launch Dance Teacher Web will be giving away 10 Dance Studio Owner yearly memberships worth $549.40 each. To be eligible to win, participants must be current, active members. Winners will be chosen in a random drawing held on Friday, October 12th.
About Dance Teacher Web:
Dance Teacher Web is the trusted online dance resource that deepens continuing education skills and fosters a positive community filled with motivation and support for dance studio owners and dance teachers. Through our unique Dance Teacher Web membership options, dance teachers and studio owners take their teacher training or business development to new heights from the comfort of their studio, home, or office. Members get 24-7 access and prolonged mentoring through articles, How-To videos, choreography, and business tips from our distinguished line-up of master teachers and business professionals eager to help. Our goal is to provide our members with instantaneous results.