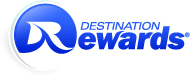 What is very important is that one establishes that point of differentiation.
BOCA RATON, FL (PRWEB) September 11, 2012
Destination Rewards, provider of customer loyalty, incentive and engagement solutions, today shared what they consider to be the number one measure of an exceptional customer loyalty program.
The chief aim of loyalty programs is to turn buyers into customers and increase customer retention. According to Linda Lustig, Director of Promotions and Merchandising for Destination Rewards, in order to understand this process one must first note the distinction between a buyer and a customer. Buyers make a purchase and then they leave. Customers are repeat buyers who develop a relationship with your brand. "In today's marketplace, loyalty is that much more difficult to come by. It's difficult to make a buyer into a customer because there are so many choices out there."
So how does a loyalty program achieve this change in behavior? "First," Lustig explains, "a company must ensure that their loyalty program encompasses these basic pillars. Determine if each is providing customers an experience that reflects and enhances their brand in a way that makes customers want to deepen their relationships with them."

Price
Service
Quality
Recognition / Personalization
Once these have been established, Lustig explains, there is one key factor that sets a loyalty program apart. "It is important that one establishes that point of differentiation. You have to exceed expectations by surprising and delighting customers." The attention span of consumers in the US marketplace is short and their loyalty to brands is getting shorter. It now takes more to keep their interest. Periodic infusions of "wow" promotions keep them coming back and further solidify their relationship with your brand. Lustig points to Destination Rewards' use of promotional drivers such as promo codes, sweepstakes and online auctions using their patented virtual currency within their loyalty programs as a prime example of surprising and delighting customers with more than they expected. As she explains, "Increase customer engagement by adding relevant content that surpasses your customers' expectations. Make them proud to be part of the exclusive group that is smart enough to take advantage of what you have to offer."
About Destination Rewards®
Destination Rewards® is the industry's most innovative provider of zero liability rewards programs, specializing in loyalty, incentive and engagement solutions. Since inception in 2001, Destination Rewards has helped some of the world's most successful brands, such as Experian, Citigroup and Humana, drive customer retention and influence behaviors at a fraction of the cost of traditional loyalty and incentive programs. They offer superior technology on a patented, customizable platform that includes a robust array of travel, merchandise, gift cards, premium local coupons, daily deals, auctions, sweepstakes, games and much more. Destination Rewards is a privately owned company headquartered in Boca Raton, Florida. For more information please visit http://www.destinationrewards.com.