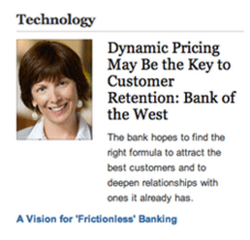 We have the products, technology and capabilities to help our clients and partners succeed in customer-focused banking solutions
Palo Alto, California (PRWEB) September 09, 2012
Zafin Labs, a provider of relationship banking software solutions, today announced the addition of industry executive George Winch to the newly created position of Vice President, Strategic Alliances.
Winch joins Zafin Labs to manage strategic global relationships with partner software and service companies. Zafin Labs will continue to operate in both direct and indirect sales channels across financial services markets, providing customers with maximum flexibility and leverage.
Winch began his career working in the banking sector with Lloyds International Bank and Chase Manhattan Bank. He went on to hold senior positions at Temenos and Cognizant where he created and maintained strategic relationships with their respective clients and partners. Winch brings a wealth of strategic business and partner experience to Zafin Labs and will report directly to Christopher Kenney, Senior Vice President of Sales and Marketing.
"We have the products, technology and capabilities to help our clients and partners succeed in customer-focused banking solutions and we continue to strengthen our ability to help them measure, innovate and communicate that value proposition for their brand," said Kenney. "This is a critically important mission for us and requires an executive with Winch's experience that will allow us to strengthen our strategic relationships with our partners."
"I'm excited to take on these challenges in my new role as Vice President of Strategic Alliances at Zafin Labs," stated Winch. "I look forward to working with our partners to harness and promote the full potential of Zafin Labs' solutions as banks look into innovation and restoration of their core product systems. It is an exciting time to be in this industry and to be part of this tremendous company."
About Zafin Labs
Zafin Labs specializes in relationship banking software solutions. Our solutions are built specifically for the financial services industry and deployed globally. Zafin Labs' flagship miRevenue Solution Suite enables dynamic relationship pricing, configurable billing, loyalty management and revenue capture capabilities. As a multi-currency, multi-geography solution, miRevenue is present in more than 40 countries. Our clients include Bank of the West, Standard Chartered Bank, SEB, HDFC Bank, and Zurcher Kantonalbank (ZKB).
Zafin Labs has offices in North America, Europe, Asia and the Middle East. For more information, please visit http://www.zafinlabs.com or call 1-855-MY-ZAFIN (1-855-699-2346).