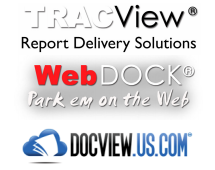 Lynchburg, Virginia (PRWEB) September 11, 2012
World-Scan, Inc., a Virginia based company providing document management solutions since 1988, is for sale.
World-Scan, Inc. is the owner of the following applications and trademarks:
TRACView http://www.tracview.com
WebDOCK http://www.webdockonline.com
Docview LLC http://www.docview.us.com (50% owner)
What is TRACView?
TRACView is an Internet based application that was developed to help law enforcement agencies and insurance companies manage and access traffic accident reports in a more efficient manner.
Through the use of cutting-edge online document management technology, you are now able to rapidly find and view an accident report within minutes of being submitted to our system. No more waiting in line or mailing report request forms. Now you can access your reports over the Internet, 24 hours a day!
TRACView was installed in over 350 law enforcement agencies in 26 states before it transitioned to Docview.
What is WebDOCK?
WebDOCK is an Internet-based document management system designed to store both paper and electronic documents and provide access to these documents 24/7 wherever you have an Internet connection.
What is Docview?
Docview specializes in the imaging of traffic crash, crime and other reports for law enforcement agencies with the intent of delivering the reports to various parties requesting them. After TRACView transitioned to Docview in 2009, over 600+ law enforcement agencies in 36 states and 1000 insurance carriers now trust Docview with the protection of their data integrity. Docview had over $4,000,000 2011 gross revenues.