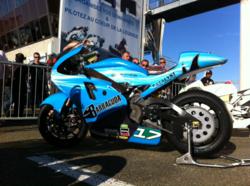 The Barracuda-Lightning engineering team worked around the clock this week prepping the bike, and that hard work paid off with a win.
San Carlos, Calif. (PRWEB) September 07, 2012
Barracuda-Lightning continues its amazing streak, with Miguel Duhamel joining the team and taking a first-place win at the Le Mans TTXGP/FIM e-Power International Championship this week in France. Duhamel finished the race in eight laps, at just 16:40.9601:49.200.
After analyzing the data, the Barracuda-Lightning team came up with a battery management strategy for the race, and Duhamel executed that strategy flawlessly. After an intense battle with Matthias Himmelmann of the Münch Racing Team, Duhamel commented, "The Lightning is very powerful but you have to pace yourself to preserve the batteries for the end of the race. It was a fantastic race and a great win for the Barracuda-Lightning team."
"Miguel's winning experience, ability to solve problems and suggest improvements to our engineering team helped push us to the next level of performance," said Richard Hatfield, CEO and founder of Lightning Motorcycles. "The Barracuda-Lightning engineering team worked around the clock this week prepping the bike, and that hard work paid off with a win. The motorcycle fans were amazed by the raw speed of the bike on the front straight at Le Mans. We are very much looking forward to bringing the street version of our Lightning SB2 to the European markets in the near future."
Duhamel is a former AMA Pro American SuperBike Champion. The five-time Daytona 200 winner joined Barracuda-Lightning just a short time ago when regular rider Michael Barnes was unable race due to other commitments. With 32 race victories, Duhamel currently sits second in all-time AMA SuperBike wins behind Mat Mladin and first in total wins from all classes.
In yesterday's practice round, Duhamel also ran the fastest bike on the track, a significant 1.634 seconds faster than the next closest bike, in a performance that no doubt captured the attention of everyone at Le Mans.
About Lightning Motorcycles
Lightning Motorcycles was founded by Richard Hatfield in San Carlos, Calif. in 1999. By 2009, the company had created the Fastest Super Bike in the world and set the land speed record in 2010 at 215.960 mph. The team broke its own record in 2011 with a top speed of 218.637. Since then, Lightning Motorcycles has established its dominance competing and winning in multiple internationally recognized superbike races. The company's mission is to develop the most innovative competition race bike and use that technology to produce and distribute affordable two wheel electric vehicles to commuter markets worldwide. For additional information, please visit http://www.lightningmotorcycle.com/.
About Barracuda Networks Inc.
Barracuda Networks combines premises-based gateways and software, virtual appliances, cloud services, and sophisticated remote support to deliver comprehensive content and network security, data protection and application delivery solutions. The company's expansive product portfolio includes offerings for protection against email and Web threats as well as products that improve application delivery and network access, message archiving, backup and data protection. Coca-Cola, FedEx, Harvard University, IBM, L'Oreal, and Europcar are among the more than 150,000 organizations protecting their IT infrastructures with Barracuda Networks' range of affordable, easy-to-deploy and manage solutions. Barracuda Networks is privately held with its International Headquarters in Campbell, Calif. For more information, please visit http://www.barracudanetworks.com.
###